Largest ever group of Michigan runners ready for Chicago Marathon
by RunMichigan Staff
,
Oct. 5, 2012
by Dave McCauley, RunMichgan.com

The State of Michigan will be represented at the 2012 Chicago Marathon by its largest numbers ever. Outside of the host state of Illinois, Michigan, with 2,309, has the most runners entered this year in Chicago. This is the largest Michigan contingent of runners in the history of the event.

Michigan is also well represented at the elite level for this year's Chicago Marathon.

For the women, Hansons-Brooks team member Dot McMahan of Rochester Hills will be looking to improve on her marathon PR of 2:31:48.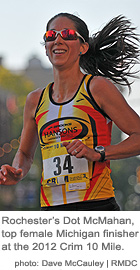 McMahan was a top 10 finisher at the 2008 and 2012 U.S. Olympic Trials Marathon. She ran her personal best of 2:31:48 last year at Grandma's Marathon in Duluth, Minnesota. After a maternity break in 2009, she returned to form at the 2010 Bank of America Chicago Marathon, finishing 17th overall and 7th American in 2:36:01. McMahan represented the U.S. at the 2005 IAAF World Half Marathon Championships, and the following year launched her marathon career at the 2006 Chicago Marathon.

In the men's field at Chicago this year, another Michigan based Hansons-Brooks team member, Drew Polley, will be looking to improve on his marathon PR of 2:14:58 which he set at the 2012 U.S. Olympic Marathon Trials this past January in Houston.

Since joining the Michigan-based Brooks-Hansons Distance Project in 2010, Polley has taken his marathon time from 2:20:59 to 2:14:58, which he ran at the U.S. Olympic Trials in January. He'll be looking for another sizeable improvement in his first appearance at the Bank of America Chicago Marathon.

And finally, one of Michigan's most decorated and accomplished distance runners, former Rockford, Michigan High School great Dathan Ritzenhein will be gunning for an overall championship at Chicago this year.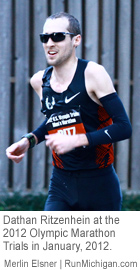 Ritzenhein is a three-time U.S. Olympian and former American record holder in the 5,000m. He ran a personal best 2:09:55 at U.S. Olympic Trials Marathon in January, but finished one place shy of qualifying for the Olympic squad. He then turned his focus to the Track & Field Trials, where he booked his ticket to the London Olympics with a third place finish in the 10,000m. The 2012 Bank of America Chicago Marathon marks his first appearance in Chicago, where he's hoping to significantly lower his personal best.

While in high school at Rockford, Ritzenhein won back-to-back Foot Locker National Cross Country titles in 1999 and 2000, and he was the bronze medalist at the 2000 IAAF Junior World Cross Country Championships, becoming only the second American to medal at that event. These victories of course go along with his multiple MHSAA State Championships in both cross country and track.

While at the University of Colorado, he helped his team to the 2001 NCAA Cross Country title, and captured the individual title in 2003.

He ran 2:14:01 at his highly anticipated debut at the 2006 New York City Marathon. A year later, he finished second at the Olympic Trials Marathon, earning at ticket to Beijing where he finished as the top American in ninth place.

After partnering with coach Alberto Salazar in 2009, Ritzenhein had a career year, setting the American record in the 5,000m, running a personal best in the 10,000m at the World Track & Field Championships, and winning a bronze medal at the IAAF World Half Marathon Championships with the second fastest time ever by an American.

A member of the Nike Oregon Project based in Beaverton, OR, his training partners include Olympic 5,000m and 10,000m champion Mo Farah of Great Britain and 10,000m silver medalist Galen Rupp of the U.S. He averages 110 miles per week in training, with a peak mileage week of 120 miles and a long run of 28 miles.

Ritzenhein's wife, Kalin, was also a standout runner at Rockford High School and at the University of Colorado. They have two children, ages five and two.

Good luck to all of our Michigan runners competing this weekend in Chicago! Check back after the race for RunMichigan.com race coverage.