RunMichigan.com Q&A with: Jeff Porter, 2012 U.S. Olympian and former UM athlete
by RunMichigan Staff
,
Aug. 31, 2012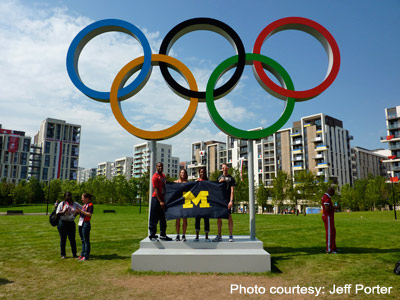 Former University of Michigan hurdler Jeff Porter was one of many University of Michigan athletes who competed at the 2012 London Olympic Games. Porter, who has become a permanent Michigan resident after his college career, competed for the USA in London in the 110 Hurdles.

RunMichigan.com was able to catch up with Porter via email after the recent London games.

RunMichigan.com: How did it feel to dive across the line at the trials to take that third and final spot in London?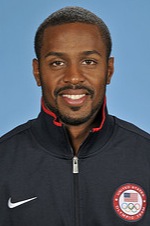 Jeff Porter: When I initially took the dive at the finish during the USA Olympic Trials, I thought that someone else had edged me out for the 3rd spot on the team. Because when I looked up, I saw another name under Aries and Jason. But when the results became official, I was overcome by a feeling of pure joy and excitement. It was like nothing I'd ever felt before. It was like the years and struggles getting to that point were all worth it.

RunMichigan.com: How was your training leading up to the London Games?

Jeff Porter: My training leading up the Games was actually phenomenal. I was training well, eating well, and sleeping well. Everything felt good. My speed and technique kept improving so I was excited about the possibilities that lie ahead.

RunMichigan.com: In your semi-final race, you finished 5th in your heat, and nearly qualified for the finals. How did the race go for you?

Jeff Porter: The semi-final race didn't go as well as I would've hoped. My first half of the race was excellent but around hurdle #6, my speed started to pick up and the hurdles became coming faster than they ever had before. Once that happened I also began to rush my technique just a little bit which caused me to hit hurdles and cost me a spot in the final. The hurdles is such a technical event and little mistakes like that cost you big time.

RunMichigan.com: Being able to watch Tiffany compete in London as well must have been special. Explain what this opportunity means for the two of you.

Jeff Porter: It was a once in a lifetime opportunity. How many people in the history of the Olympics are able to say they watched their spouse compete before they competed themselves? It was truly a special moment. But she didn't run as well as she wanted to either. However, we try to always look at the positives and remind ourselves that what we did was extra special.

RunMichigan.com: What's next for you?

Jeff Porter: I'm still currently in London preparing for the last few meets of the year. I plan on coming back to the states sometime early September, but we'll have to wait and see about that. I still have an opportunity to run and I really want to avenge that London race in a major competition.

RunMichigan.com: How did it feel to have five other University of Michigan Track & Field Alumni also run in the 2012 London Olympics - including your wife Tiffany?

Jeff Porter: To have that number of Wolverines at the Olympics was extra special. Michigan track and field takes some criticism from the southern schools because it is not an ideal training environment. But we showed everyone that it doesn't matter where you train. It takes a desire from deep within to achieve the goals you set for yourself. Truly a fun experience.
- Thanks Jeff for your time and good luck with your upcoming racing. - RMDC