Rochester College Cross Country to take large strides, names Laura Murphy new coach
by RunMichigan Staff
,
Aug. 28, 2012
Provided by Rochester College
Rochester Hills, Mich.- Having some of the state of Michigan's best running trails within walking distance, Rochester College has announced the addition of Women's Cross Country to the athletic program in 2013. As exciting as that sounds, Athletic Director Klint Pleasant is even more excited to announce that decorated Cross Country extraordinaire Laura Murphy will be the Head Coach.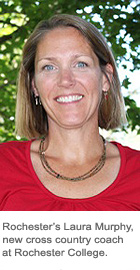 Murphy brings experience as an athlete and coach to Rochester College. As an athlete, Murphy enjoyed success at NCAA Division I Bowling Green State University where she was a four time Mid-American Conference (MAC) Champion in the 1500m. She also earned All-MAC honors in Cross Country in 1982, 83', and 84'. In 1983, Murphy was a member of the MAC Cross Country Championship team and was inducted into the Bowling Green State University Athletic Hall of Fame, class of 1992.
After a stellar college career, Murphy took her running talents to the next level as she was a two-time Olympic Trials qualifier in the marathon (1996 and 2000). Along with qualifying for the Olympic Trials, Murphy was selected in 1996 as the Michigan Runner magazine Runner of the Year. In 2003, Murphy represented Hanson's-Brooks at the USATF Cross Country Club Nationals in Greensboro, NC where she helped her team to a fourth place finish.
Building on her very successful past as an athlete, Murphy is confident she will be able to use her experience to establish a Cross Country powerhouse at RC. "As a former Division I athlete, I have been fortunate to have dedicated, caring, experienced, and wise coaches throughout my career. Without my high school coach, I would not have considered running in college, and without my college coaches, I cannot say for certain that I would have enjoyed the post-collegiate success that I did. I have decades of lessons garnered from all of them, as well as a few learned the hard way, to pass along to new generations."
Aside from her experience as an athlete, Murphy has volunteered at NCAA Division I Oakland University and has personal involvement in the Stony Creek Striders, North Hill Running Club, and Hart Middle School Running Club. "I have volunteer coach experience that has allowed me to see all sides of coaching at the collegiate level from structuring workouts to the administrative necessities," said Murphy.
As the Head Coach at RC, Murphy said she will measure her success on the progression of her athletes. "Success will be defined by team goals, individual goals, keeping athletes healthy, enthusiastic, and ready to perform when it counts. In the long term, it will be interesting to wait and see which athletes continue on in running locally, as distance runners can have lengthy careers when properly developed."
Murphy is looking for her program to gain respect immediately. "For our first season of competition, the priority will be to establish a presence with the schools that Rochester College normally competes with. There are schools with similar foundations, populations, and athletics that I would like to be in a position to challenge," said Murphy. "The key will be to get a young team experienced running collegiate level competitions, which will allow the bar to be raised the following year."
Murphy has her sights set on recruiting athletes that fit in with the mission of Rochester College. "The mission of RC is perfectly inline with recruiting and developing athletes that will be the best match for our program. As a coach, it is ultimately the goal to send your athletes off into the world equipped to integrate their athletic experience into their future lives," said Murphy.
Along with fitting in with the mission of RC, Murphy will be looking for athletes that are academically sound. "A great athletic team cannot happen without academic commitment. I am looking for serious students, women who want to be challenged both on the roads and trails and in the classroom. Rochester College is a special place, and I am certain that there are athletes out there who want the small-school-in-a-big-place experience," said Murphy.
The 2013 RC Cross Country team will be competing locally at meets hosted by Oakland University and the University of Detroit Mercy where the Warriors will compete against several schools they will see at the NAIA Regional later in the season.
The Warriors will train at the rails-to-trails that lead to hilly Bloomer Park with more trails and the gently rolling dirt roads of Oakland County is (in)famous for. The Warriors will also run at Stony Creek Metropark.
Check back to www.rochestercollegewarriors.com for the latest Women's Cross Country updates!