Morgan and McMahan top Michigan finishers at the 2012 Crim 10 Mile
by RunMichigan Staff
,
Aug. 27, 2012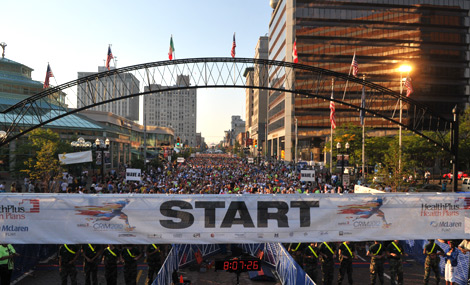 Photo: Dave McCauley | RunMichigan.com

by Steve Marcinkowski, RunMichigan.com

Flint, Michigan - Saturday, August 25, marked the 36th running of the Crim Festival of Races held in Flint, Michigan. In the featured event of the day, the Crim 10 Mile race, there were several impressive performances both in the men's and women's races.

On the men's side in the 10 Mile, Julius Kogo of Kenya cruised to a winning time of 46:45. Kogo finished 30 seconds ahead of his closest competitor, Moroccan Marofit Mourad who took second place in 47:15.

Hansons-Brooks runner Mike Morgan of Rochester Hills was the first Michigan finisher to cross the line in a time of 49:45 -- good for a 12th place overall finish along with top Michigan finisher winnings of $1,000. This is Morgan's first Crim 10 Mile and he was pleased with both his effort and with the course.

"It's a great course", Morgan said, talking with RunMichigan.com's John Brabbs after the race. "It's a professional race", he went on to say, with excellent support from other runners as well as the fans.

Other top Michigan finishers included Boaz Cheboiywo of Ypsilanti in 50:07 (2nd Michigan, 14th overall) and Brendan Martin of Rochester in 50:22. (3rd Michigan, 16th overall)

Michigan dominated the Masters Division of the Men's 10 Mile as 40-year-old Ian Forsyth of Ann Arbor took home top honors in a time of 51:54. Tracy Lokken of Marquette took second in 52:18.

In the women's competition in the 10 Mile, Caroline Rotich was the first female to cross the line in 53:43, which was good for a 27th overall finish. Rotich, a Kenyan who lives in Santa Fe, New Mexico, averaged an impressive 5:22 per mile over the 10 mile course.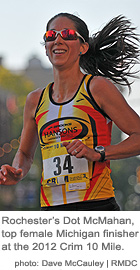 The first Michigan female to finish was Rochester's Dot McMahan of the Hansons-Brooks team. Dot's time of 56:29 was good for an 8th place female finish and 44th overall. Dot also took home the top Michigan finisher's winning check of $1,000. McMahan's split for the first five miles was 28:11 and she came back in 28:18. "I'm really happy about that", she commented after the race, "I always want a negative split out here because it's such a challenging course. But to get pretty close to an even split, I'll take it."

For McMahan, who came to Michigan and the Hansons-Brooks team from Wisconsin and a successful career at the University of Wisconsin-Milwaukee, the Crim 10 Mile has become a big part of her running and racing.

"This kind of feels like my hometown race." McMahan told RunMichigan.com's John Brabbs after the finish of the 10 Mile. "We're staying in Michigan. It's definitely going to be our home. I really want to do it every year that I can."

McMahan, who finished in ninth place overall at the 2012 Women's Olympic Trials Marathon, will now set her sights on a new PR this fall at the Chicago Marathon.

Second in the women's 10 Mile for Michigan residents was Sarah Boyle, 26, of Brighton with a time of 58:58. Third Michigan women's finisher was Ariana Hilborn, 31, of Rochester Hills.

For additional results, photos and interviews, visit RunMichigan.com's 2012 Crim Coverage Page.