RMDC Interview with: Megan Goethals - Former Rochester High School XC and Track great talks to RunMichigan.com
by RunMichigan Staff
,
Aug. 21, 2012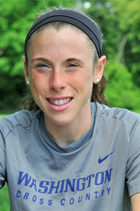 In her last two years in high school, 2010 Rochester High School graduate Megan Goethals dominated high school distance running in Michigan, winning four individual MHSAA State Track and Field titles, two MHSAA LP Division One Cross Country state titles and three National championships -- once in cross country and two times in track. Megan's current PR's include a 15:46 collegiate 5000 meters and a 10:01.16 Two Mile at the 2010 New Balance Outdoor High School Track Nationals, which converts back to a 9:57 3200.
RunMichigan.com had a chance recently to talk with Megan about her high school days in Michigan, her transition to a successful cross country and track career so far at the University of Washington and most recently, her 5000 meters National Runner-Up performance at the 2012 NCAA Division One Outdoor Track and Field Championships.
Thanks Megan and best of luck this fall from all of us at RunMichigan.com!
Part 1: Getting her start in Michigan and high school running and racing
Part 2: Transitioning to college at the University of Washington
Part 3: Looking back on the 2012 NCAA Outdoor Track 5000 Meters