Rockford's Dathan Ritzenhein and Grand Blanc's Geena Gall Make US Olympic Team
by RunMichigan Staff
,
Jun. 24, 2012
By RunMichigan.com Staff and USATF Race Reports

Grand Blanc's Geena Gall headed to London!

Geena Gall, the former State of Michigan and National High School Champion from Grand Blanc High School is headed to the 2012 London Olympics. Gall qualified in the Women's 800 Meter Run at the 2012 U.S. Olympic Track and Field Trials on Monday, June 25 in Eugene, Oregon.

The twenty five year-old Gall, who also competed for and graduated from the University of Michigan, finished in second place with a time of 1:59.24 securing her spot on the U.S.A. Olympic Team. Alysia Montano was the overall winner in 1:59.08 and third went to Alice Schmidt with a time of 1:59.46. All three women earned places on this year's U.S. Olympic Team in the Women's 800.

Gall was a two-time NCAA National Champion while at U of M and holds the Big Ten Outdoor Track and Field Championship Meet Record in the Women's 800 Meter run of 2:02.73, which she set in 2006. She currently is a member of the Nike/Oregon TC Elite Track Club.

GO RITZ GO! Rockford's Dathan Ritzenhein makes 2012 Olympic Team in 10,000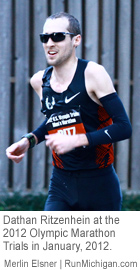 Former Rockford, Michigan High School great Dathan Ritzenhein has done it again. Ritzenhein is once again a USA Olympian, qualifying this past Friday night with a time of 27:36.09 (third place overall) to capture the Olympic A standard for the final spot on the 2012 USA Olympic Team in the Men's 10,000 Meter Run.

The first final of the day had former University of Oregon Duck Galen Rupp posting the fastest time by an American this season in winning the 10,000 meters in a time of 27:25.33 amid a downpour of rain. He broke the meet record of 27:36.49 set by Meb Keflezighi in 2004.

Finishing second in the race was Matt Tegenkamp in 27:33.94, but the story behind him was Ritzenhein, who placed third in 27:36.09, just ahead of Stanford's Chris Derrick in fourth at 27:40.23.

Rupp, among the leading trio throughout the race, pulled away in the final five laps. He covered the last couple of kilometers in 2:40.4 and 2:38.1, cruising to a comfortable victory.

Amy Hastings covered the final lap in just over 65 seconds to capture gold in the women's 10,000m in 31:58.36, holding off Texas A&M's NCAA champion Natosha Rogers, who was a surprise second with a massive PR of 31:59.71. Olympic Trials marathon winner Shalane Flanagan garnered the final podium spot at 31:59.69, but will elect to run the marathon in London. That puts fourth-placer Lisa Uhl and seventh-place finisher Janet Bawcom on the Olympic team with Hastings, as Rogers does not have the A standard.

Ritzenhein had an amazing high school career at Rockford. In addition to his Footlocker national titles, he was the national record holder in the Boy's Two Mile Run with a time of 8:41.10. He ran the fastest ever 5K at the State of Michigan high school cross country finals with a time of 14:10 and has several Big 12 collegiate championships and one national cross country championship while running for the University of Colorado.

Good luck Ritz and Geena!

For more on athletes with connections to the state of Michigan competing at this year's Olympic Track and Field Trials, click here.