Michigan Athletes Compete at 2012 Olympic Track and Field Trials
by RunMichigan Staff
,
Jun. 22, 2012
By Steve Marcinkowski, RunMichigan.com

Today marks the official start of the USA Olympic Track and Field Trials, being held at the famed Hayward Field Track at the University of Oregon in Eugene.

Over the course of eight days, hundreds of athletes will be vying for a chance to compete at the Olympic Games this summer in London. Several of these athletes have Michigan backgrounds or connections.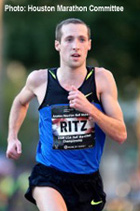 Former Rockford, Michigan High School standout and 1999 and 2000 Footlocker High School National Cross Country Champion, Dathan Ritzenhein, who currently runs for Nike, is set to run both the 5,000 and 10,000 meter runs with the 10,000 kicking off tonight at 9:45 PM, EST.

Ritzenhein had an amazing high school career at Rockford. In addition to his Footlocker national titles, he was the national record holder in the Boy's Two Mile Run with a time of 8:41.10. He ran the fastest ever 5K at the State of Michigan high school cross country finals with a time of 14:10 and has several Big 12 collegiate championships and one national cross country championship while running for the University of Colorado.

Meanwhile, former University of Michigan miler Alan Webb was successful in filing a petition, which granted his entry into the Men's 5,000 meter run. Webb is also slated to compete in the 1,500 meter run.

Three top distance runners with Rochester, Michigan area ties are hoping for success as well.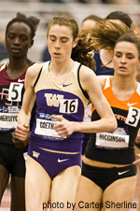 Former Rochester High School national champion and current University of Washington All-American, Megan Goethals is currently pending entry into the Women's 5,000 meter run. Goethals is looking to follow up her second place 5,000 meter finish at the NCAA Division One National meet with another great performance at the trials.

Two members of the Rochester Hills based Hansons-Brooks Distance Project will be competing in the 5000 and 10,000. Jacob Riley has declared for the 5,000 and 10,000 meter runs, while Neely Spence has qualified for the trials with her time of 15:27.72 in the 5,000 meter run.

University of Michigan athlete Craig Forys completed his collegiate career with a second place finish in the 3,000 meter Steeplechase at the NCAA Division One National meet. Forys will compete in the steeplechase qualifying round on Monday, June 25, for his chance of an Olympic berth.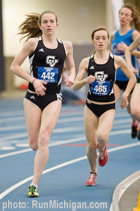 Betsy Graney of Grosse Pointe North High School and the 2012 NCAA Division Two National Steeplechase Champion from Grand Valley State University will also be running the 3,000 meter Steeplechase. Graney has had an amazing career at Grand Valley State in both cross country and track.

Geena Gall (Nike/Oregon TC Elite), former Grand Blanc High School and University of Michigan athlete, is qualified for the 800 meter run with the first round of races set for 8:00 PM, EST tonight, June 22. Former Flint Carman-Ainsworth National Champion and USC All-American, Ahmad Rashad (Nike) will be competing in the 100 meter dash scheduled for Saturday, June 23 at 7:00 PM, EST.

The Women's Discus has two athletes from Michigan set to compete at 5:30 PM, EST Friday, June 22. Grand Valley State's Samantha Lockhart and Beth Rohl of Michigan State are amongst the 24 competitors in the Discus. The final field event participant is Tori Franklin also of Michigan State. Franklin will compete in the Women's Triple Jump Saturday (6-23).

Several athletes are still awaiting confirmation of their entry into their respective events. University of Michigan Student-Athlete Jillian Smith in the Women's 1,500, Corey Nowitzke in the Men's 3,000 meter Steeplechase and former Michigan State University runner Nicole Bush (New Balance) in the Women's 3,000 Meter Steeplechase.

RunMichigan.com wishes all athletes good luck in their respective events over the next several days. We will be updating all events and results as they become available.

Additional Information:

2012 USA Olympic Trials Live Results