Rochester's Megan Goethals and Michigan's Craig Forys Runners-Up at NCAA Nationals
by RunMichigan Staff
,
Jun. 11, 2012
By RunMichigan.com Staff
In one of the most exciting finishes this season, former Rochester (MI) High School standout and current University of Washington Sophomore Megan Goethals fought back hard in the Women's 5000 Meter Final, only to be edged out at the line, barely losing out on the 2012 NCAA Division One Outdoor 5000 National Title. The 2012 NCAA D1 Outdoor Track and Field Finals were held June 6-9 in Des Moines, Iowa.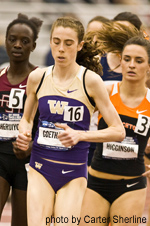 Running through the mid-day Iowa heat, Goethals and the rest of the field patiently and leisurely cruised through a slower than average first mile, with the pace finally picking up in the last mile and a half. Goethals, though appearing at times in the last 800 to be ready to drift out of the top places, surging and dropping back, found some extra motivation and toughness in the last 100 meters to mount a charge on the top spot.
Seeing that it was a real possibility, she made one last surge on the inside, briefly taking the lead with only steps to go. However, Dartmouth's Abbey D'Agostino, also a Sophomore, felt Goethal's on her left shoulder and made one last surge in the last few meters of the race to hold on for the victory. D'Agostino's time was 16:11.34 to Goethals' 16:11.37. Goethals had the best 5000 time coming into the meet with a 15:46.82.
In the Men's 3000 Meter Steepchase, University of Michigan Senior Craig Forys, also earned NCAA National Runner Up honors with a time of 8:40.66. Don Cabral of Princeton was the overall winner with a time of 8:35.44.
Highlights of Day One competition included Michigan State's Beth Rohl finishing in fourth place in the Women's Discus with a throw of 186-6. Also from Michigan State, Redshirt Freshman Leah O'Connor (Croswell-Lexington H.S) progressed to Friday's finals in the Women's 3000 Meters Steeplechase. Unfortunately in the Steeplechase final, O'Connor had to pull out late in the race and was unable to finish.
For final detailed results from the 2012 NCAA Outdoor Track and Field Finals, you can visit the 2012 Championship Live Results link by
clicking here.
pictured: Former Rochester High School runner, Megan Goethals