State athletes looking for success at 2012 NCAA D1 Outdoor Track Championships
by RunMichigan Staff
,
Jun. 7, 2012
By RunMichigan.com Staff
The 2012 NCAA Division One Outdoor Track and Field Championship Meet is taking place June 6-9 at Drake University in Des Moines, Iowa and the state of Michigan will be well represented.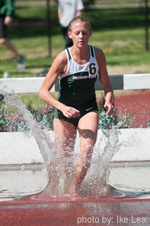 Highlights of Day One competition included Michigan State's Beth Rohl finishing in fourth place in the Women's Discus with a throw of 186-6. Also from Michigan State, Redshirt Freshman Leah O'Connor (Croswell-Lexington H.S) progressed to Friday's finals in the Women's 3000 Meters Steeplechase. Other athletes from state schools will be competing in today's preliminary rounds.
Other notable races to keep an eye out for will be the Women's 5000 Meters scheduled for Saturday afternoon, June 7, at 12:19 p.m. (CST) where former Rochester (MI) High School standout Megan Goethals is the top seed. Goethals, currently a sophomore at the University of Washington, comes into the event with that top seeded time of 15:46.82. And in the Men's 5000, Eastern Michigan's Terefe Ejigu will be competing in the finals on Friday evening.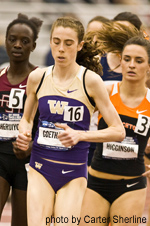 For up-to-date results from the 2012 NCAA Outdoor Track and Field Finals, you can visit the 2012 Championship Live Results link by
clicking here.
And you can find video coverage at ESPN3.com and ESPNU.
Also, be sure to check back with RunMichigan.com for post competition results.
Good luck to all Michigan universities and athletes competing at this year's NCAA Division One Finals.
pictured: MSU's Leah O'Connor at the 2012 Spartan Invitational, Former Rochester High School runner, Megan Goethals