Fowler Girls and Albion Boys Take MHSAA Division Four Track
by RunMichigan Staff
,
Jun. 4, 2012
by Steve Marcinkowski, RunMichigan.com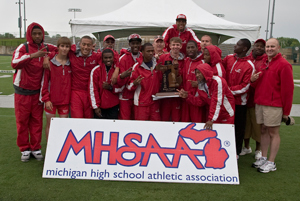 The Fowler Girl's team won the MHSAA Lower Peninsula Division Four Track and Field State Meet held at Jenison High School Saturday, June 2.
In a tight meet, Fowler placed in ten events, and scored 54 points while Traverse City St. Francis scored 50 to take second. The Fowler Girls won the 3,200 and 800 Meter Relays while Alexander Ferguson won the Discus with a throw of 124-3. Lauren Buckel of Traverse City St. Francis won the 200 and 400 Meter Dashes and anchored the winning 1,600 Meter Relay team.
On the Boy's side, the Albion Wildcats won all four relays throughout the day and collected a first place tie in the 400 meter dash. Albion's Nolen Mitchell was the team MVP as he helped anchor the winning 800 and 400 Meter Relay, won the 400 Meter Dash and was a member of the first place 1,600 Meter Relay team.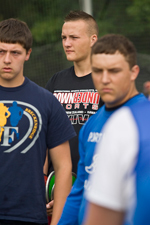 Jacob Patrick of Litchfield threw a new Finals Meet record in the Discus of nearly 20 feet farther than the previous record with a mark of 190-0. Detroit Cristo Rey's Adam Abbott had a mark of 22-3.75 in the Long Jump which set a new Lower Peninsula Division Four Finals Meet record.
- RMDC photos by Carter Sherline