Sami Mitchell shines, Lansing Catholic boys and Frankenmuth girls win team titles at D3 track finals
by RunMichigan Staff
,
Jun. 3, 2012
by Steve Marcinkowski, RunMichigan.com
The 2012 MHSAA Division Three State Track and Field Meet at Comstock Park High School Saturday was home to several meet records and many outstanding performances.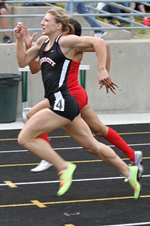 Sami Mitchell of Reed City became just the second person in MHSAA history to win four individual events at a State Championship meet. Mitchell won the Long Jump, 100 Meter High Hurdles, 300 Meter Low Hurdles and the 200 Meter Dash -- breaking three Finals Meet records in the Long Jump, 100 Meter High Hurdles and the 300 Meter Low Hurdles, two of which were her own records.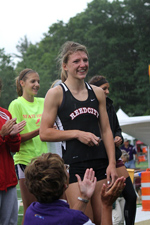 In her most impressive race of the day, she broke the 300 Meter Low Hurdles State and Division Three Finals Meet record. Mitchell also broke her previous Division Three record from a year ago in that event with a time of 42.23. Her time also broke Benton Harbor's Carolyn Fergusson's 28 year-old All Class and Division record.
In the team competition, the Frankenmuth Girl's team scored in ten different events on their way to an 11 point victory over Benzie Central (63-52). Notable performances were turned in by Ashley Frahm placing fifth and third in the discus and shot put, respectively, a first place finish in the 800 and 1600 Meter Relay as well as Emily Wee placing fifth and second in the 100 Meter High Hurdles and 300 Meter Low Hurdles, respectively.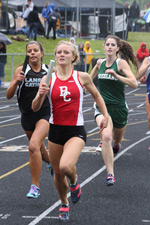 Benzie Central's Theresa Warsecke also competed well as she scored in 4 different events. Warsecke anchored the winning 3,200 Meter Relay team, ran to a first place finish in the 1600 Meter run, was third in the 800 Meter run and was also the anchor leg of the third place 1,600 Meter Relay team.
In the Boy's competition, Lansing Catholic won the meet with 68 points and Union City was second with 45 points. Lansing Catholic recorded first place finishes in the shot put (Dan Liesman), the 3,200, 800 and 1,600 Meter relay and the 800 Meter run (Zach Zingsheim).
Jake McFadden of Clare won both the 110 Meter High Hurdles and the 300 Meter Intermediate Hurdles. Chris Maye of Union City was also a two time champion as he won the 100 Meter and 200 Meter dashes while taking second in the Long Jump.
- RMDC photos by Jackie Gomez