Records fall while Divine Child, Country Day and Avondale win team titles at D2 State Meet
by RunMichigan Staff
,
Jun. 3, 2012
By Steve Marcinkowski, RunMIchigan.com
The 2012 Division 2 MHSAA Track and Field State Meet, held at Houseman Field in Grand Rapids on June 2, was a meet full of great performances. And like most of the Lower-Peninsula state meets in the Grand Rapids area, the weather did its part to make for an eventful day.
Four finals girl's meet records fell on Saturday in the 100 Meter Dash, 1,600 Meter Run, 400 Meter Dash and 3,200 Meter Run.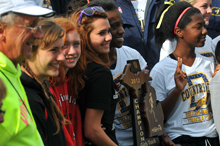 For Detroit Country Day, Sydney Cureton broke her previous 100 Meter Dash record with her time of 11.90 while also running in the first place 800 and 400 Meter Relay teams. Kendall Baisden broke her own 400 Meter Dash record running 54.58 and was also on Country Day's winning 800 and 400 Meter Relay teams. Brittany Mann won the Discus and Shot Put to help secure a first place team tie with Dearborn Divine Child.
Divine Child also had notable performances. Ashley O'Neill was the lone field event participant to place as she finished third place in the discus. Divine Child placed in all four relays with a first place in the 1,600 Meter Relay, second in the 800 and 3,200 Meter Relays and finally a third place 400 Meter Relay. Divine Child's Paige Patterson finished first in the 200 Meter Dash with a time of 24.91.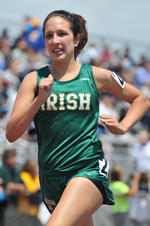 Sara Barron of Notre Dame Prep had several key performances. Barron broke the Finals Meet Record for the Girl's 1,600 Meter Run with her first place finish in 4:51.67. She also finished first in the 800 for the second straight year while helping her team to a third place finish in the 1,600 Meter Relay. Barron had to hold off a very tough challenge from Allendale's Ali Wiersma to win the 1600. Barron had the lead after an up-tempo first 800 and had to dig down a bit deeper than she had anticipated to finish ahead of Wiersma, who had momentarily pulled in front during the latter part of the race.
Wiersma then narrowly set a new Finals Meet record in winning the girl's 3,200 Meter Run with a time of 10:40.22 -- an amazing performance considering the earlier battle in the 1600 and also the wind and rain, which had both picked up considerably before the start of the 3200.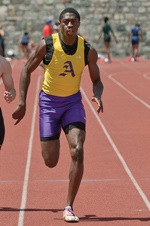 In the boy's team competition, Avondale took home the victory with 47 points. First place finishers for Avondale on the day included Kyle Redwine in the 100 Meter Dash, the 400 Meter Relay team and Nathan Chapman in the 400 Meter Dash. The 1,600 Meter Relay team notched a second place finish with Chapman also taking fourth place in the 800 Meter Run and contributing to the Yellowjacket's 800 and 1,600 Meter Relay teams.
Lansing Sexton took second place with 40 points. They were led by David Washington taking sixth place in the 110 Meter High Hurdles, first place in the 300 Meter Intermediate Hurdles as well as being a member of the fourth place 400 Meter relay team. The 800 and 1,600 Meter relay teams also took first place.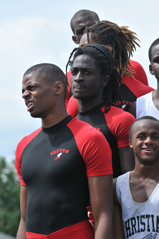 Sexton's 800 Meter Relay team of Kendell Jackson, Adrian Sanchez, David Washington and Anthony Goodman set a New L.P. Division 2 Finals Meet Record with a time of 1:27.99. The old record of 1:28.11 was set by Auburn Hills Avondale in 2011.
- RMDC photos by Ike Lea and Dave McCauley