Grosse Pointe South girls, Lake Orion boys take home 2012 D1 State Track Titles - GPS girls set national record
by RunMichigan Staff
,
Jun. 3, 2012
by Steve Marcinkowski, RunMichigan.com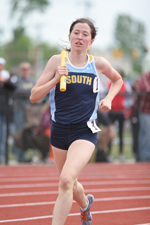 The Grosse Pointe South Girl's team won the 2012 MHSAA Division One State Track and Field Championship on Saturday, June 2nd at East Kentwood High School.
GPS started the day by winning the 3,200 Meter Relay in convincing fashion by breaking the State and Division One Finals Meet records by over 15 seconds (Rochester High School, 2010). The team of Kelsie Schwartz, Ersula Farrow, Haley Meier and Hannah Meier also set a national high school record with their performance.
GPS went on to take a first, second, third and sixth place finish in the 1,600 Meter Run as Hannah Meier, Haley Meier, Ersula Farrow and Kelsie Schwartz all ran this event. Hannah, Haley and Ersula also ran to first, third and fourth place finishes, respectively, in the 800 Meter Run. Hannah's time of 2:08.57 broke her own Finals Meet record. Caitlin Moore, Ersula Farrow and Haley and Hannah Meier completed competition with a first place finish in the 1,600 Meter Relay.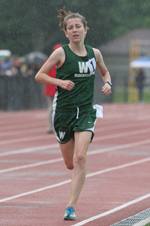 Junior Erin Finn of West Bloomfield broke the State and Finals Meet record in the 3,200 Meter Run with her 10:17.86, breaking Megan Goethals 2010 record of 10:22.75.
Other notable performances include Ann Arbor Huron's Cindy Ofili winning the 100 Meter High Hurdles, the 300 Meter Low Hurdles, 100 Meter Dash and anchoring the 800 Meter Relay. With Ofili's four wins together with Maya Long collecting a first place finish in the 400 Meter Dash, Ann Arbor Huron took home the second place trophy.
In the Boy's Championship, Lake Orion won the meet with 50 points and Grand Blanc took second with 44 points. Highland-Milford won the 3,200 Meter Relay with a time of 7:43.42 as they nearly broke Saline's 2004 record of 7:41.27. Lake Orion's 3,200 Meter Relay team finished in second place with a time of 7:51.84 to start the day of running competition.
Lake Orion's Alex Roberts took home two fourth place finishes in the 110 Meter High Hurdles and 300 Meter Intermediate Hurdles while the 800 Meter Relay team finished in second place behind Grand Blanc.
Entering the final event of the day, Lake Orion was second to Grand Blanc. They left nothing to chance as they edged out Birmingham Groves for the victory in the 1,600 Meter Relay by one one-hundredth of a second securing their team state title. Grand Blanc won the 800 and 400 Meter Relays to help earn their second place finish in the boy's team competition.
- RMDC photos by Matt Yacoub