Finn sets 5000 Meter record and Meier wins again
by RunMichigan Staff
,
Mar. 11, 2012
by John Brabbs, RunMichigan.com
The Armory Track, New York, NY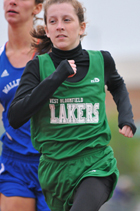 West Bloomfield High School Junior Erin Finn sets a new High School indoor 5000 Meter record by running 16:19.69 at the New Balance Indoor Nationals on Friday March 9th, 2012. Erin is the 2011 Foot Locker Cross Country Championship runner-up and the 2011 MHSAA LP Cross Country Finals Champion.
Gross Pointe South High School Junior Hannah Meier wins the Girl's Mile run in 4:42.60 to set a new meet record. Hannah is the 2011 MHSAA LP Division 1 Track & Field 800 Meter & 1600 Meter champion. Also in the mile were Haley Meier in 14th, Sara Barron in 16th and Avery Evenson in 17th
Hannah Meier along with her sister Haley, Kelsie Schwartz and Ersula Farrow won the Girls Distance Medley Relay in 11:39.29 just missing the meet record of 11:38.60.
Cass Tech Senior Kyra Jefferson finishes 5th in the 200 Meter Dash Finals in 24.42. Kyra recently won the 200M Dash at the 2012 Michigan Indoor Track Series championships.
Ann Arbor Pioneer High School Senior Drake Johnson finishes 6th in the 60M Hurdles. Johnson also won the 2012 Michigan Indoor Track Series 60M Hurdles and the 2011 MHSAA LP Division 1 Track and Fields 110M Hurdles.
Saginaw Heritage High School's Evan Chiplock finishes 14th in the Two-Mile.
Motor City team of Courtney LaShae Hewitt, Nicole Lynch, Anna Jefferson and Johnyce Pwell finish 4th in the Girls 4x400m Relay.
Spirt of Pre's Amy Creutz, Abby Rentschler, Lauren Green and Elianna Shwayder finish 7th in the 4 x Mile Relay.