Hannah Meier Tops Fast Girl's 1600 Meter Field and Runs the Country's Best Time of 2012
by RunMichigan Staff
,
Feb. 20, 2012
by RunMichigan.com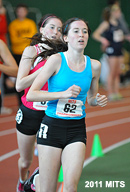 Hannah Meier, a junior at Grosse Pointe South High School, hammered out the year's fastest girl's high school indoor 1600 Meter time in the U.S. on Saturday February 18, blazing to a 4:47.59 first place finish at the
Gazelle Sports
"Elite Mile" held at Grand Valley State University.
The Gazelle Sports Elite Mile was part of Saturday's MITS (Michigan Indoor Track Series) event held on the GVSU campus.
Hannah's winning time was over three seconds faster than the runner-up, her sister Haley, who turned in a great performance of her own with a time of 4:50.85. Haley's time ranks as the second fastest in the country so far this year. Third place went to Ali Wiersma in 4:55.39, narrowly edging out Avery Evenson who ran 4:55.53. Right behind Evenson in fifth place was Sara Barron in 4:55.71.
For Hannah Meier, the win was just another in a long line of successes in her high school career so far. Hannah was the 2011 MHSAA Outdoor 1600 Meter Champion and also the 2011 MITS Indoor High School Champion. At the MHSAA LP Division One Finals last June, she ran an All-Class/Division Michigan high school state meet 1600 meter record with a time of 4:42.60.
In the Boy's Elite Mile event on Saturday, the overall winner was Connor Mora in a time of 4:18.7.
Next up on the MITS calendar is the Michigan Indoor Track Series State Championship Meet to be held February 25 at Eastern Michigan University. Come back to RunMichigan.com for full coverage of this event.
Related Content:
-
February 18, 2012 MITS results from GVSU, including the "Elite Mile" results.
-
RunMichigan.com interview with Hannah Meier from the 2011 MITS State Meet