John Brabbs Column: Fifth Third River Bank Run
John Brabbs Column: Fifth Third River Bank Run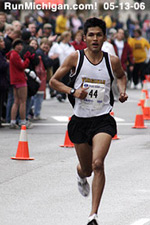 Fernando Cabada
On Saturday May 12th, 2007 in Grand Rapids will be the 30th running of the Fifth Third River Bank Run 25K and the USA 25K Championships. Michigan's own
Brian Sell
, Hansons-Brooks, the 2005 USA 25K champion will be looking at trying to win his second 25K championship as well as trying to win the race out right. Brian had an incredible 2006 racing season which saw him run two 2:10 marathons in Boston (4th place overall) and Chicago (6th place overall) as well as win the USA Half Marathon title. To win the overall and USA titles Brian will have to go through the 2006 25K overall and USA champion Fernando Cabada. Fernando won the 2006 title in 1:14:21 a pending American record. Fernando also had an incredible year setting PR's in the 3000 to Marathon. Fernando ran a debut marathon of 2:12:27 in 2006. East Jordan's Ryan Shay the former Michigan High School XC state champion will also be looking to mix it up with Sell and Cabada. Shay is coming off a 28:03 10K on the track at Stanford April 29th.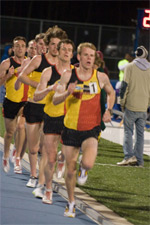 Brian Sell
In the women's race University of Michigan alumni Katie McGregor the 1998 NCAA XC Champion who now runs for Team USA Minnesota will be one of the favorites, she will be looking to win both the overall and USA 25K titles. In 2006 Katie won her second USA 10K road championship and debut in the marathon running 2:32:36 in New York City. Others to watch in USA Championships will be Alicia Craig, Jenny Crain, Jeanne Hennessy and Michelle Lilienthal.
Kim Jones is back to defend her 2006 Masters Title and Michigan's Paul Aufdemberge will be looking to win his first 25K Masters Title after finishing as the 2nd Master's the last two years.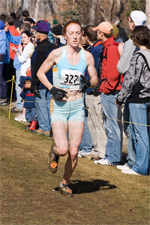 Katie McGregor
RunMichigan will again be covering the Fifth Third River Bank Run, look for photos and interviews from the 2007 race.