Please visit our sponsors
[an error occurred while processing this directive]

[an error occurred while processing this directive]
[an error occurred while processing this directive]
[an error occurred while processing this directive]
Ed Whitlock
- By Doug Kurtis
Free Press Columnist
07/27/06
This Friday night, Ed Whitlock, age 75, will be running at the University of Windsor's Stadium in search of his fourth world track record. He will follow a group of sixty year olds to chase USA's Scotty Carter mile WR of 5:57:02 set in 1992.

Whitlock's mile will be held in conjunction with this weekend's Super-Meet put on by the Windsor Legion Track and Field Club. The event is the Ontario Track and Field Association provincial championship and involves 750 athletes from community based programs. Some of Canada's greatest track and field stars have established their reputations while participating in the bantam, midget, juvenile and open competitions.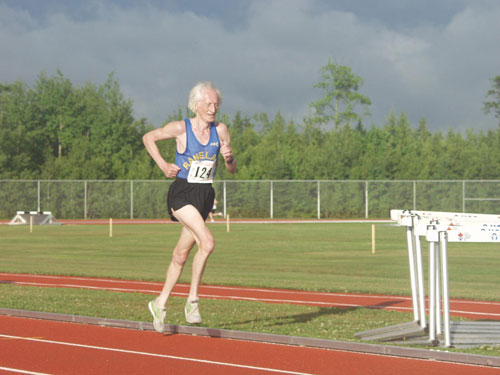 The meet begins at 4 pm on Friday (the masters mile is at 7:15 pm) and runs through Sunday afternoon. Go to: http://supermeet.sbweb.cc for more information.

Whitlock, a retired mining engineer living in the Toronto suburb of Milton, Ontario, began his running career in England. At age 17 he ran a 4:31 mile. His move to Ontario in 1952 and family life put his running on hold for twenty years. At age 40 he started running again with the encouragement of a local track club and hasn't stopped since.

Whitlock's training has adjusted with age. Intense training in his forties has led to more simple and unscientific daily efforts. During some months his workouts consist of daily loops around a cemetery for three hours a day. It's hard to imagine he can run a sub six minute mile without speed work, stretching or weight training. Nor any special diet except ice cream for desert every night. Actually, Whitlock's speed work comes in the form of races; about thirty a year.

Tuesday night, Whitlock blew the doors off the World Record for 3000 meters (age 75) with an 11:10:43 despite going out too fast. That's 6 minutes a mile pace.

Genetics may have a lot to do with some of his phenomenal times over the age of seventy which includes: 18:22 (5km), 37:33 (10km), 58:55 (15km) and 2:54:49 for the marathon. Whitlock has also run 1:02:25 for the Crim 10 miler in Flint.

I spoke with Whitlock by phone this week. He said, "There are pros and cons to track and road running. In general my times on the track are slower than on the road for the same distance. I don't know why that is. It is easier to keep track of pace on the track because of the laps and no hills! One disadvantage on the track is that interference and help from other runners is more of a problem. Either you are in a pack and you are constantly adjusting your running or you are running alone and often lapping runners which involves running wide on the bends. On the road you can frequently get in with a pack to help you along but still have room to run unhindered."

Over the past dozen years, Whitlock has set single age records for almost every road race distance. He received global recognition for his efforts at last year's New York City Marathon when he was honored as Runner's World Magazine's Hero of the Year. Whitlock is the only runner over seventy to break three hours for a marathon and he has done it three times.

Less than four years ago there were fewer than 500 over-seventy runners competing in marathons. Now with attention drawn to runners like Whitlock more and more are joining the ranks. Road running is one of the few sports that enables the over 70 crowd to receive recognition for their physical abilities.
Contact Doug Kurtis at Detroit Free Press, 600 W. Fort St. Detroit, 48226

Doug Kurtis the former Race Director for the Detroit Free Press/Flagstar Bank International Marathon is the world record holder for most career sub 2:20 marathons (76) and most marathon victories (39). Doug is a five time Olympic Trial Qualifier 1980, 1984, 1988, 1992 and 1996. He was voted into the RRCA Hall of Fame in 1998 and Michigan Runner of the Year - 1985 and 1990. Doug coached two 2000 Olympic Trial Marathon Qualifiers.

Personal Bests:
26.2m - 2:13:34, 25km - 1:17:58, 13.1m - 1:04:51, 20km 1:02:37
10m - 48:33, 15km - 46:01, 10km - 29:44, 8km - 23:25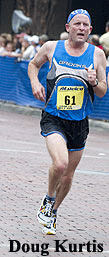 You can e-mail Doug at:
[email protected]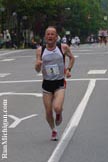 Doug Racing at
Dexter Ann Arbor