Canadian
Mike McGowan
won the Detroit Free Press Marathon in 1995. He won a Mazda 626, sold it and used the money to fund his freelance writing career after graduating from the University of North Carolina with a degree in English.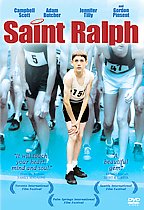 He later went on to write and direct films including a wonderful running movie called Saint Ralph. It's an intelligent, coming-of-age film that inspires people to run and encourages viewers to put themselves on the line at least once in their lives.
McGowan said the Free Press was his only marathon victory but it helped him put the movie together.
In Saint Ralph, McGowan crafted an adorable, comedy/drama with an emotional sound track. Awkward yet straightforward, Ralph Walker (Adam Butcher) is a fatherless 14-year-old with a mother who falls into a coma while being treated for a serious illness.
A series of incidents inadvertently puts Ralph on rocky terms with headmaster Father Fitzgerald (Gordan Pinsent) at the Catholic school he attends. As penance, Ralph is conscripted to run with the cross-country team. He soon thinks it will take a miracle to save his mother's life.
He asks a teacher, and soon to be running mentor, if you have to be a saint to perform a miracle. Father Hibbard (adeptly played by Campbell Scott) often the iconoclast, answers that logic would say that it requires only faith, purity and prayer.
Desperate for a miracle that will prevent him from being an orphan, Ralph is told that winning the Boston Marathon would be just that.
McGowan chose Boston because "winning it would mean something to the casual sports fan," he said. "In part because it would have been possible back then for someone to come from complete obscurity to win the race."
In 1954, only 176 runners entered Boston. What also worked well for the story is that Boston sometimes falls on the day after Easter.
Competitive running is familiar territory to McGowan, and he makes the running scenes seem authentic. He serendipitously infuses North America's oldest race, the Around the Bay 30K, into the script. That was another race where he claimed victory.
By taking on Boston, Ralph inadvertently makes all of those around him feel like they are all part of something big, something that doesn't happen every day, and that connects him to the audience and the film's cast.
McGowan, a Canadian who now lives in Toronto, framed the movie in Hamilton, Ontario, in 1953-54 because of the uncomplicated nostalgia of the time. In running, he finds similar traits to his own -- dedication, concentration and a remarkable capacity for work.
"It was an era of relatively unsophisticated approaches to the sport," McGowan said of the early '50s. He uses quotes from an obscure training book that Ralph discovers, 'Secrets to Marathon Success,' as part of the film's narrative.
"As the race approaches, it is paramount that all distractions disappear," decreed the guru Longboat. "It is equally important that all doubts be cast aside. Remember the marathon is not without adversity and pain."
"Even though I wrote 'Saint Ralph,' the process still seems mysterious," McGowan said. "How characters, worlds, conflicts and dreams can be transferred to the page and then filmed in such a way as to make audiences suspend their disbelief, seem miraculous."
But as Father Hibbert says: "If you're not chasing after miracles, what's the point?"