February 11, 2023- Saturday
Snow Moon Trail Run
TYPE OF RACE
TRAIL RACE
Start Time : 4:30PM
WHERE
Midland
2840 E Monroe Rd
48640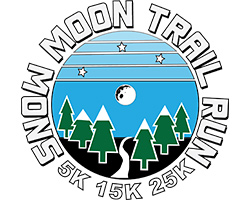 EVENT DISTANCES
5K : TRAIL RUN
15K : TRAIL RUN
25K : TRAIL RUN
EVENT FEE(S)
5K Run/Walk/Ruck - Day or Night (1 Lap) - $36 15K Run/Ruck (3 Laps) - $41 25K Run (5 Laps) - $45
CONTACT
RACE INFORMATION
Join Dig Deep, Blake's Hard Cider Co., Jolt Credit Union and Bayne's Apple Valley in presenting the 7th Annual Snow Moon Trail Run! The Snow moon is a traditional name for the full moon that occurs in February in North America. This event has hearty trail runners embracing the snow and cold air temperatures with a unique race through the dark night with cool LED lights marking the path along with what might be the most festive "aid station" ever at a race!

Runners embark on one of several race distance options - 5k, 15k or 25k - along a 5k loop of wide trails (not single track) through the woods of City Forest in Midland, Michigan. Those participants completing multiple laps (15k and 25k) will run through a chute located at the venue area alongside the Snow Moon event tent (where the finish line is located). Back by popular demand: Participants in the 5K event may choose to run during daylight hours in an afternoon event prior to the night race kicking off. Those running the daylight 5K will also be able to register for one of the evening events.

A portion of proceeds will benefit the Eagles of Midland 2110 and their community efforts.
This event has been viewed 252 times
Created on: 12-4-22 8:18:10