September 24, 2023- Sunday
Growler Gallop Atwater 10 Miler and 5K
TYPE OF RACE
ROAD RACE
Start Time : 4:00 pm
WHERE
Detroit
237 Joseph Campau Street
48207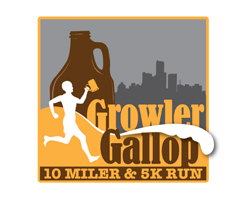 PRIZE MONEY
Cash prize awards to the top 3 overall male and female finishers in the 10 Miler Distance$150 -1st place, $100 – 2nd place, $75 – 3rd place.
RACE INFORMATION
10 years and still running strong, the Grower Gallop 10 mile and 5K is an amazing celebration of running and racing! The race starts and finishes at The Famous Atwater Brewery in Downtown Detroit! The 10 mile course will take you along the Riverwalk and around Bell Isle, while the 5K will use the Riverwalk and loop back around just before the bridge to Belle Isle. We will have great live music, medals, food, and beer for all participants. Awards include: Growlers filled with Atwater beer, Kegs, and cash prizes!


Cheers to Ten Years of Growler Gallop in 2023!
This event has been viewed 49 times
Created on: 11-28-22 10:38:03