July 04, 2022- Monday
Hadley Run
TYPE OF RACE
ROAD RACE
Start Time : 8:00 AM
WHERE
Hadley
3633 S. Hadley Road
48440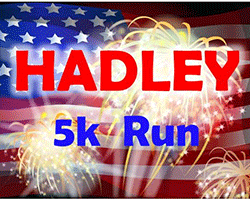 RACE INFORMATION
Welcome to the 14th annual Not your ordinary Run-of-the-Mill race in small town of Hadley.

More race information:
-On line registration at runsignup.com.
-Packet(Bib) pickup at 6:45AM - 7:55AM.
-National Anthem at 7:55AM
-Open start line for 1-2 minutes to get everyone through.
-Finish medals (handed out or on table to pick up)
-Bottled water and healthy refreshments (on table at start/finish line)
-Water station on course across from Post Office (not decided yet )
-Shirts ( back this year )

Each participant has individual start and finish time. Overall male and female with 10 year age groups(6-15,16-25...66+). Your finish time is available immediately via Kiosk or live at NewtonTiming.com. Last Chipped time about 9:00ish to clean up and out. Kids parade at 10:00. Hence no awards ceremony. Independence parade at noon.

Course is 100 percent paved flat streets in town. Mostly shaded except for the Starr mile. Race starts and finishes at the Mill Museum just south of the stop light. Parking in church parking lot across the road.

Registration $20 in April, $25 in May, $30 in June and $35 July (sorry, had to increase cost). SportTek shirt $25.

Main sponsor is Choice One Bank ( was LakeStone Bank and Trust (was LCBT)).

Net proceeds go to Hadley Township Historical Society and other local charities.
This event has been viewed 159 times
Created on: 1-15-22 1:21:04
Last updated on 6-18-22 12:35:02