This EVENT is an older event! It is from February 12, 2022
Please use the search box above to search for the new race!
February 12, 2022- Saturday
Thank You for Being a Friend 1M 10K 10M 100K 100M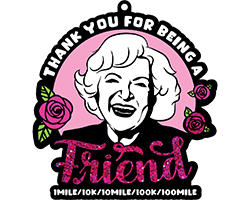 EVENT LINKS
EVENT DISTANCES
1 Mile : RUN/WALK
10K : RUN/WALK
10 Mile : RUN/WALK
100 Mile : RUN/WALK
100K : RUN/WALK
RACE INFORMATION
On December 31, 2021 the world lost a cherished icon, Betty White. She was less than a month away from celebrating her 100th birthday when she passed away. We love this woman and the joy and laughter she brought into our lives. In her honor we are hosting our Thank You For Being a Friend 1 Mile, 10K, 10 Mile, 100K, 100 Mile race. You choose which distance you want to complete. Who will run/walk 100K or 100 Miles to honor Betty almost reaching 100 years??? Betty was a major animal activist, s0 at least 15% of every registration to Noah's Ark Animal Sanctuary in Georgia. Their mission is three-fold:
To provide a forever home for injured, abused, and orphaned animals.
To provide awareness through our education programs that emphasize all living things have value no matter how small or seemingly insignificant. When we as a society can recognize this fact, we will begin to win the battles for conservation and preservation.
To provide unconditional love and care for animals who have special needs in their lives whether mental, physical, or emotional.

This event has been viewed 227 times
Created on: 1-13-22 2:07:05