December 04, 2021- Saturday
Winter Trail Fest 13.1 and 5 Mile Eastside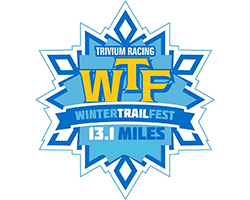 EVENT LINKS
EVENT DISTANCES
13.1 Mile : RUN/WALK
5 Mile : RUN/WALK
RACE INFORMATION
For years the west side of the state got to have all the fun in the winter. This year The Winter Trail Fest will also be coming to the East side! We will be running 13.1 or 5 miles at our favorite winter running location, Island Lake State Recreation Area!

Some call it Whiskey Tango Foxtrot Half, some call it The Winter Trail Fest Half, some just think What The F..... This race is not for the weak of heart or the cold intolerant. We will be down at Island Lake for a winter trail half marathon race and we will be hoping for some of the nastiest conditions possible! We really want you to earn your WTF Medal and WTF hoodie! The afternoon start will give you a chance to relax and enjoy the morning before tackling 13.1 brutal miles in the afternoon!

Not quite ready for a Half Marathon but still want to race? There is also a 5 mile option!!

As with all of our races, Trivium is going to give you the best race experience possible with easy to follow trail markings, lots of aid on the course, live results, and unique prizes!

New in 2021, you can race with us again in June for the Summer Trail Fest Ultra and Half Marathon and earn a matching medal to make one complete medal! With both medals in hand, it will be easy to say, WTF, I might as well STFU and Run in 2021!
This event has been viewed 450 times
Created on: 4-29-21 8:26:11