September 25, 2021- Saturday
Dances With Dirt - Hell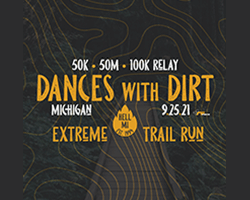 EVENT LINKS
EVENT DISTANCES
50K : TRAIL RUN
50 Mile : TRAIL RUN
100K : RELAY
EVENT FEE(S)
Please see website for details!
RACE INFORMATION
The 50 Mile and 50K ultra events are on Pure Michigan, runnable single track, gnarly trails! You won't be disappointed.

The 100K 5 person Relay has lots of great, honest trail running, laced with off trail Hell, dished up by mother nature. No gimmicky, man-made crap you find in an obstacle run. Trick 4 other folks into this nonsense, enter the team today, and we promise, they will be pissed off, get their butt's kicked but in the end, they will love you for dragging them to Hell! No late Relay entry so get on it!
This event has been viewed 2769 times
Created on: 11-12-19 5:37:40
Last updated on 8-19-20 7:05:46