September 12, 2020- Saturday
VIRTUAL ONLY FOR 2020 - Run Woodstock 5M, 13.1M, 26.2M, 50K, 50M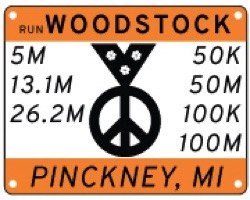 EVENT DISTANCES
5 Mile : TRAIL RUN
13.1 Mile : TRAIL RUN
26.2 Mile : TRAIL RUN
50K : TRAIL RUN
50 Mile : TRAIL RUN
EVENT FEE(S)
Please see website for details!
RACE INFORMATION
*** THIS EVENT HAS BEEN CANCELED AND CHANGED TO VIRTUAL ONLY FOR 2020. PLEASE VISIT THE RACE WEBSITE FOR ADDITIONAL INFORMATION. ***

An event filled weekend but lots of time to mellow, meditate and make out. Entry into any Saturday morning run/walk event or weekend pass gets you entry into all the weekend laid back runs, hippie hikes, music, yoga and nonsense!
Flower Power 5 Mile, Hippie Half, Mellow Marathon, Freak 50K, Peace Love & 50 Miles, Happening 100K and the Hallucination 100 Mile!
Get in a run, mellow out, listen to tunes, do some yoga and go for another run! Or just come for the music!... At Run Woodstock, find harmony and get into the groove, and invite your body to regain its karmic balance.
Tie dye, peace signs and other head shop looking race paraphernalia.
The 100 mile finisher's belt buckle is far out! Every finisher gets a groovy peace sign medal! Other cool hippie stuff for everyone! Fire up the underground and spread the word.
Peace out brothers and sisters ... and get out for a run, man.
This event has been viewed 594 times
Created on: 11-12-19 11:33:47