This EVENT is an older event! It is from August 01, 2020
Please use the search box above to search for the new race!
August 01, 2020- Saturday
The Legend 5M, 10M, 13.1M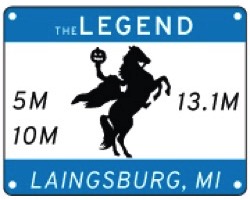 EVENT LINKS
EVENT DISTANCES
5 Mile : TRAIL RUN
10 Mile : TRAIL RUN
13.1 Mile : TRAIL RUN
EVENT FEE(S)
Please see website for details!
CONTACT
RACE INFORMATION
Welcome! The critters at RF Events are excited to return to Sleepy Hollow! Sleepy Hollow State Park has 2,600 acres of hardwood forest, prairie grassland and 410 acre Lake Ovid. The course circles Lake Ovid and several other small lakes in a beautiful lightly hiked and biked area of Michigan.
Much of the trail is actually grass covered - the perfect running surface! Some steep hills but none too long. There are some low areas that may be muddy and wet, could you want it any other way??
This event has been viewed 831 times
Created on: 11-12-19 11:18:29