August 17, 2022- Wednesday
T-Rex Sprint Triathlon & Kids' Tri
TYPE OF RACE
TRIATHLON
Start Time : 6:00pm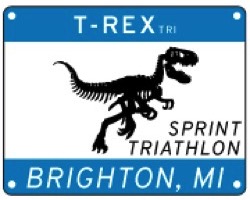 EVENT FEE(S)
Please see website for details!
CONTACT
RACE INFORMATION
The biggest baddest tri series around....ROAR!
All races have limits and will sell out early! ROAR!
The 2020 T-Rex Triathlon Series
Triceratops - June 17, 2020
Pterodactyl - July 15, 2020
T-Rex - August 19, 2020
ALL RACES START AT 6PM!
ALL RACES ARE ON WEDNESDAY EVENINGS
AT ISLAND LAKE STATE PARK.
Why do all 3?
A friendly course at Island Lake Recreation Area in Brighton, MI. Kent Lake swim, paved park road bike course, paved path run course and lots of prehistoric creatures along the way!
Three races on the same course offers a great way to track of your progress and fitness levels as the season goes on!
Save money! Sign up for the series and save some bucks!
Take a Jurassic jaunt down the wild side!
This event has been viewed 2368 times
Created on: 11-12-19 2:15:15
Last updated on 6-15-21 8:48:51