This EVENT is an older event! It is from October 24, 2020
Please use the search box above to search for the new race!
October 24, 2020- Saturday
POSTPONED - Trail Weekend 13.1M
TYPE OF RACE
TRAIL RACE
Start Time : 8:00am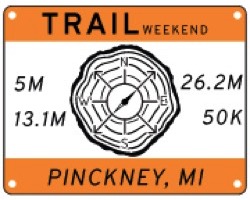 EVENT FEE(S)
Please see website for details!
CONTACT
RACE INFORMATION
This race, now in its 33rd year, started before a single knobby bike tire rolled around
Potowatami Trail.
"Poto", is a big bad loop of hilly kick your butt wilderness single track trail. Due to the fact that most Americans are comatose couch potatoes, the 12,000 acres of Pinckney Recreation Area remains a wilderness, even though it's only a 55 minute drive from metro Detroit.
I do enjoy a solitary run on Poto but once a year it's fun to lace em' up and scamper through the woods with a thousand of my best friends. It's a celebration of dirt, sweat and pain that renews my faith in humanity.
Come join us!
Randy Step, Race Director
NEW JUST FOR 2020: PAVEMENT TO PINES CHALLENGE
Due to the 2020 date change we're excited to introduce ANOTHER chellenge! We understand many of you might already be signed up for a beloved fall half marathon or marathon! For anyone participating in Free Press 13.1 or 26.2, or Grand Rapids 13.1 or 26.2 the weekend before, you're invited to participate in the PAVEMENT TO PINES challenge! This is a running challenge to hit the pavement and then a week later hit the pines at Pinckney Rec area! Of course it will come with a coveted award!
This event has been viewed 1434 times
Created on: 11-12-19 7:52:32
Last updated on 3-26-20 6:36:12