This EVENT is an older event! It is from September 07, 2019
Please use the search box above to search for the new race!
September 07, 2019- Saturday
9/11 Honor Run 5K
TYPE OF RACE
ROAD RACE
Start Time : 8:46a
WHERE
Traverse City
F And M Park Railroad & Washington St.
49686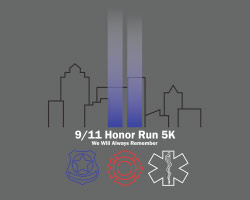 CONTACT
Jen Casey
3129090871
10729 Wood View Terrace
Traverse City, MI 49686
RACE INFORMATION
The 9/11 run is to honor those who lost their lives in the September 11th, 2001 terror attacks, as well as Local First Responders and Veterans. Proceeds will go to the Grand Traverse Region Public Safety Alliance. This non-profit fund was set up to recognize emotional wellness for our first responders (Police, Fire, EMS, Emergency Management, 911 Dispatchers and Coast Guard) and offer programs and support for those going through PTSD.

We welcome all Runners, Walkers, Wheelchairs and Dogs.

The race start is at 8:46a which is the same time the World Trade Center North Tower was hit. We will gather before the race for a quick ceremony to remember and honor the events of that day many years ago and then show our spirit with an amazing run!
This event has been viewed 716 times
Created on: 5-14-19 12:36:20