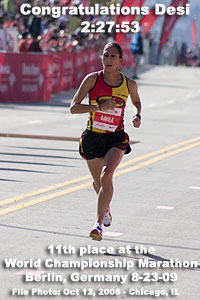 Hanson-Brooks runner Desireé (Desi) Davila comes through in a big way for team USA in Berlin, Germany at the 12th IAAF World Championships in Athletics by running a personal best time for the marathon. Desi finished in 11th place running 2:27:53 and almost caught her USA teammate Kara Goucher who finished 10th in 2:27:48. Desi crushed her previous best time by 3 minutes 40 seconds, which was 2:31:33 at the 2008 Bank of America Chicago Marathon. Kara and Desi led team USA to a fifth place finish for the marathon team championship. Xue Bai of China took home the gold with a winning time of 2:25:15, the silver went to Yoshimi Ozaki of Japan in 2:25:25 and the bronze went to Ethiopia's Aselefech Mergia in 2:25:32. Mergia held off China's Chunxiu Zhou who was trying to make a late charge at the bronze medal. Zhou finished in 4th place with a time of 2:25:39, she was followed by teammate Xiaolin Zhu in 5th place with a time of 2:26:08. China also took the gold for the women's marathon team championship. Other USA finishers were Tera Moody 28th place in 2:36:39, Paige Higgins 30th place in 2:37:11 and Zoila Gómez 51st in 2:42:49.
Desi's splits for the marathon were: 17:47 (5K) in 36th place; 35:25 (10K) in 37th place; 52:59 (15K) in 33rd place; 1:10:26 (20K) in 29th place; 1:14:21 (Half Marathon) in 28th place; 1:27:51 (25K) in 24th place; 1:45:26 (30K) in 20th place; 2:02:47 (35K) in 14th place; 2:20:18 (40K) in 11th place; 2:27:53 (26.2 Miles) in 11th place.
Universalsports.com did a great job of covering the race and the women provided a lot of excitement for the race. The women had a large group of 21 runners through 25K with Desi only 20 seconds behind the leaders. Russia's Nailiya Yulamanova finally pushed the pace after 25K to break up the large pack and by 30K the lead pack was down to about 10 runners. Nailiya finally fell off the pace before 35K to leave only three runners China's Bai, Japan's Ozaki and Ethiopia's Mergia for the final 7K. Over the last 7K Bai, Ozaki and Mergia all took turns with the lead. They were all still together at 40K until Bai finally took the lead and never looked back. Over the last 1K it looked like Mergia might not have enough left to hold off China's Zhou for the bronze, but she held it together and beat Zhou by 9 seconds. What a great moment for team USA and Rochester Hills, Michigan to see the video of Kara Goucher finishing in 10th with Desi right behind her in 11th. It was definitely worth it to get up at 5:30am on a Sunday morning to watch the IAAF World Championship Women's Marathon. From an interview I did with Desi's coaches Kevin & Keith Hanson they predicted Desi would run under 2:30 in the World Championships and they were correct. Desi's 2:27:53 also ranks her as one the USA's top ten all time women marathoners and her time as a USA top 20 of all times.
IAAF World Championship Women's Marathon Results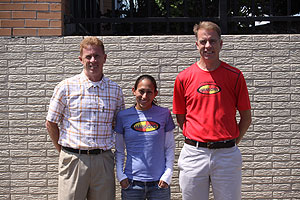 Aug 6, 2009 Press Conference (L to R) Kevin Hanson, Desi Davila and Keith Hanson