Jul. 8, 2000
ATHLETIC AMERICA's JOHN GOODRIDGE
Leave a Comment
ATHLETIC AMERICA's JOHN GOODRIDGE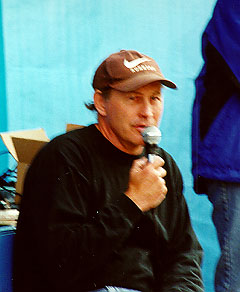 Nineteen John Goodridge-coached athletes have represented the United States in international competition including the Olympic Games, World Track Championships, World Cross Country Championships, World University Track and Cross Country Championships, World Half-Marathon Championships and Pan-American Games including two medalists. He has coached men ranging from 1:46.87 at 800 meters to 2:12.05 in the marathon and women from 4:12.80 at 1500 meters to 2:31.08 in the marathon. His wife Francie is a pioneer in women's running having been the first native born Michigan woman to make the Olympic Team. She represented the U.S. at 800 meters in the Mexico City Games and then at 1500 meters in the 1972 Munich Games, a rare distinction of not only making two Olympic Teams but in two different events. Francie is a former American and World-record holder and National Champion who has devoted her professional career to the teaching and coaching of young women athletes. She originated two girl's high school Track programs in Ann Arbor and coached Michigan to its first ever Big Ten Track Championship. She is a member of the State Track Hall of Fame and University of Michigan Hall of Honor. Several years ago she was honored at the world famous Penn Relays for her contributions to Women's Track.
RunMichigan: What made you move back to Michigan?

John Goodridge:
Ann Arbor is home. Francie was born and raised here and trained for her first Olympics in Ann Arbor. We both have degrees from the University of Michigan, we were married here and our son Kyle was born here(and now a sophomore at Michigan). We also believe that all the ingredients to develop a National Olympic Development Training Center exist here. We also feel that the State of Michigan is a great distance running community that would welcome and support our efforts.
RunMichigan: What made Francie and you want to start Athletics America?

John Goodridge:
There is a tremendous need in this country for programs like Athletics America. We have a tremendous developmental system in this country for high school and university age athletes but once a Distance Runner graduates from university they lose fulltime professional coaching, facilities, medical care, equipment, travel assistance, a similar competitive structure and a team. But besides recognizing the problem(and we don't believe we are Einstein's to understand it), we realized, to be perfectly frank, that we have the experience and credibility to undertake the effort. We have each as athlete and coach for the past thirty years been gaining experience and preparation for this work. We have paid our dues as athlete and coach having worked very successfully at the high school,collegiate and club levels and have the national and international background to present our credentials to athletes and supporters that we are genuinely qualified to develop a National Distance Training Center for Olympic Development.
RunMichigan: How did Francie and you get Athletics America started?

John Goodridge:
Francie and I were both two of the very original employees of the Nike Company, even employees of the parent company of Nike, Blue Ribbon Sports as was Geoff Hollister, a soon to be retiring Nike employee, number three in seniorority, who throughout the years has worn many different hats for Nike. Geoff is a very creative fellow, a former Oregon miler and in my opinion one of the very most unsung heros in this country for influencing the past Nike Marketing phenomena via his national grassroots running promotional efforts as well as efforts to help improve the performance level of American distance runners. About three years ago we began talking about the need again in this country to help American Distance Running and he provided us with some startup funding to begin a Distance Running Club Program. We then spoke to some contacts in Ann Arbor who were very supportive of our mission to establish this effort and decided we would take a leap of faith, resigned from university coaching and are now moving forward back home in Michigan.
RunMichigan: What has Athletics America accomplished since setting up in Michigan?

John Goodridge:
We have had a very rewarding year. Jeff Simonich became the first Athletics America athlete to qualify for a United States National Team as he represented the United States in the IAAF World Cross Country Championships in Villameure, Portugal. The Club entered two separate teams in the U.S. National Senior Men's Cross Country Championships and became National Runnerup in the 4,000 Meter Championship and placed fourth in the 12,000 meter Championships. Four of our members qualified for the first time for the United States Indoor Track National Championships with three athletes placing in the top ten in their respective events. Nolan Swanson(who was the sixth ranked 10,000 meter runner in the country last year) received his first international invitation and got to race in Oslo, Norway while Ray Hughes(who ran the tenth fastest 3,000 meter steplechase in the U.S. last year) was invited to attend the U.S. Olympic Development Steeplechase Training Clinic and I served as an invited Staff Clinician. Nearly every single member has set a personal best in their primary event this season. We have been able to provide our athletes with wonderful competitive opportunities to enhance their development as Athletics America has been represented in many local competitions throughout the state as well as Nationally at the Penn Relays, Drake Relays, Mt.Sac Relays, Kansas Relays,Stanford Invite, Oregon Track Classic, Sea Ray Relays,Arkansas Invite,,Jessie Owens Classic, Harry Jerome Track Classic, Boston High Performance or Maine Distance Festival. Craig Masback, the USATF CEO has also been in contact with us over the past few months discussing our effort.
RunMichigan: How many athletes do you currently have running for Athletics America?

John Goodridge:
We have a dozen athletes who have trained in Ann Arbor since we arrived in October and we have fifteen new members who will be in uniform and training with me here in Ann Arbor by September 1. We have athletes from Alaska and Alabama who want to join.

RunMichigan: Who will be running at the Olympic Trails?

John Goodridge:
Ray Hughes(8:33.29) will be in the steeplechase along with new member Ryan Pirtle(8:35) as well as our two most recent qualifiers, Jay Brock(8:39.38) and Sam Barall(8:40.02). Ryan trained with me for two weeks last year in North Carolina before he set his PR and has improved this season to 8:35 and will move to Ann Arbor from Missouri in August. Jay and Sam have fullfilled a 'comeback' dream as they did not race or run much last year but began training with me last summer with the goal of making it to The Trials. They improved their pr's of two years ago from 8:52 and 8:49. Nolan Swanson(28:31) will be in the 10,000 Meters with Chad Johnson. Nolan, Chad and Ray are three great stories who can be inspirations for lots of young high schoolers. Nolan's best high school mile was 4:28, Ray's best was 4:42 and Chad ran 2:14 and 4:48. Nolan and Ray improved throughout their college careers to become All-Americans. Chad's best time from last year was 29:11. He moved here in January to be coached with my group and he has improved to 28:36 and is now going to the Olympic Trials. Jeff Simonich will be in the 5000 meters and Rebecca Wilmes in the women's 1500 meters.
RunMichigan: What are your thoughts on the two track events (the Twilight and the International) that Athletics America hosted this year?

John Goodridge:
We are very grateful to alot of individuals for helping these two meets get off to a great start. The meets received wonderful advance publicity from the media and the Michigan running community responded with tremendous support with their presence but also with unbelievable enthusiasm creating a great atmosphere for all of us in attendance. Commenting at the International Kevin Sullivan, after running the fastest mile ever run in the State of Michigan, stated that he "had never before been at a track meet in which the crowd had as much energy."

RunMichigan: What are your plans for track events in the 2001 season?

John Goodridge:
We will again host the Michigan Twilight and Michigan International. We also plan to host a Winter International during the indoor season and will most likely add at least one other outdoor meet building our outdoor Michigan High Performance series. Several groups have contacted us expressing interest about having other meets(within the State and around the Midwest) but we are just evaluating these possibilities at this time.
RunMichigan: What are your goals for Athletics America?

John Goodridge:
We hope to establish a true National Olympic Development Distance Training Center here providing an environment in which athletes can not only receive proper fulltime coaching and proper medical, equipment, competitive opportunities and travel support but that they also find career path employment in their chosen fields so they can get firmly established professionally and athletically.
RunMichigan: What does it take to keep an organization like Athletics America going?

John Goodridge:
Financial support. Athletics America is a non-profit 501C tax-exempt organization that is dependent upon corporate and philanthropic giving. All donations are utilized for Olympic Development. The motto of the USOC is that"America doesn't put athletes on the Olympic Team, Americans do." Well, Athletics America is an opportunity for Michigan runners and Michigan corporations to become involved in the Olympic movement by making donations to support our Training Center effort. We are so very close to having so many wonderful parts of the puzzle in place to help these postcollegiate athletes who seemingly are abandoned. A friend close to our program used this analogy(being in the auotomotive capital of the world) to explain our need for financial support. "You and Francie are experienced champion drivers who have built a great racing machine but if you don't have enough fuel to get around the track it doesn't matter how good the machine and driver are."
RunMichigan: What positive things do you see with the current United States distance running?

John Goodridge:
First of all Running is healthy in that last year over 23 million individuals participated on a regular basis. More people ran and completed marathons in 1999 than ever before. Track and Cross Country when combined as sports is the highest participatory sport in the country on the high school and college levels. And a trend is developing for improved competitive performances on the national high school and collegiate levels. We need to look no further then our own state to see some very exciting running on the high school level but we need to build on this for the future. Postcollegiately trying to compete on the international level can be improved but it will take time. Years ago we had so much more depth on the high school and collegiate levels. Today a prep boy running around 9:00 for 3200 is unusual whereas using 1976 as an example Eric Hulst and Tom Hunt ran 8:44 and 8:45 for Two Miles(about a 3 sec difference than the shorter 3200), the 10th fastest was at 8:55 and the twentieth best was 9:02. The same has occurred collegiately and internationally in that we've lost the depth and more developmental work over time is needed to catch up and this is most indicative in the marathon. But again some very positive developments are occurring. The men's 10K for the Olympic Trials will have nearly fifty entrants. I believe we can do better internationally if we provide support for organizations like Athletics America to help develop our postcollegians throughout their twenties and thirties..

RunMichigan: What improvement can be made with the United States distance running?

John Goodridge:
We have tremendous potential in this country but our resources are not channelled properly in order to improve our level of performance. With proper coaching combined with proper support I firmly believe that the level of performance of American Distance Running can be improved from 800 meters to the marathon for men and women. Donations or inquiries for Athletics America can be made to 3362 Beaumont Avenue, Ann Arbor, Michigan 48105 or fgoodridge@earthlink.net.
--end--