* UM VS MSU AT GVSU HAS BEEN CANCELED * UM vs MSU battle this weekend, plus top NCAA D2 meet, all at GVSU
by RunMichigan Staff
,
Jan. 29, 2014
Courtesy,
Grand Valley State Athletics
*** THE UM VS MSU MEET, SCHEDULED FOR SATURDAY EVENING, FEBRUARY 1ST AT GRAND VALLEY STATE UNIVERSITY HAS BEEN CANCELED DUE TO BAD WEATHER. THE GVSU 5-WAY MEET, ALSO ON FEBRUARY WILL GO ON AS SCHEDULED AT 1:00 PM. **

GVSU to host "state's biggest day in track" this Saturday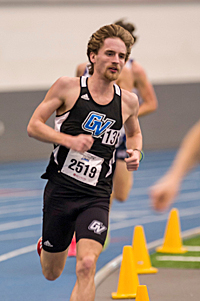 ALLENDALE, Mich. - For the second straight year, Grand Valley State will serve as the hosts to one of Michigan's biggest track and field days of the year, as the Lakers will compete in a 5-way meet on February 1st at 1 p.m. before turning the Kelly Family Sports Center over to Michigan and Michigan State for a dual meet that begins at 6 p.m.

Last year, GVSU hosted a 4-way meet with Central Michigan, Eastern Michigan and Hillsdale, which the Lakers won on the men's side (GVSU - 164.5, EMU - 154.5, CMU - 124, Hillsdale - 61) and finished in second on the women's side (EMU - 166.5, GV - 162, CMU - 97, Hillsdale - 67.5).

This season, the Lakers will serve as the hosts to a 5-way meet with Hillsdale, Lewis, St. Joseph's (Ind.) and Lincoln (Mo.). This meet will turn out to be a huge event across the entire Division II track and field landscape, as Lincoln and GVSU will do battle in a 1-versus-2 matchup on the women's side, as the Lakers are #2 in the USTFCCCA Division II national rankings. On the men's side, GVSU is ranked 4th in Division II, while Lincoln is 19th.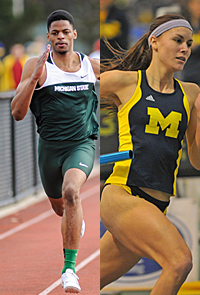 Following the Division II 5-way meet and beginning at 6 p.m., Michigan and Michigan State will take over the Kelly Family Sports Center for the second straight year in a dual meet competition. Last year, Michigan and Michigan State took part in their first dual meet against each other since 1982 on the men's side, and for the first time ever on the women's side. The results were split, as the Michigan men claimed an 88-74 victory and the Michigan State women won 89-73.

As of the USTFCCCA preseason Division I national rankings, the Michigan women were ranked 13th in the country.

For ticket information for the GVSU 5-way meet, fans can visit GVSUTICKETS.COM.

Below is ticket information for the Michigan/Michigan State dual meet:

What: Michigan vs Michigan State Dual Meet
When: February 1, 6:00 PM
Where: Kelly Family Sports Center at Grand Valley State Univ.

Pre-Sale Ticket Prices:

Adults - $8.00
Seniors/Children/Students - $5.00
VIP Track Level - $12.00
Day Of The Meet Ticket Prices
Adults - $10.00
Seniors/Children/Students - $5.00
VIP Track Level - $15.00

More information regarding both meets, including a schedule of events and updated rankings, will be available on www.gvsulakers.com the week of the meet.

RunMichigan.com photos by Ike Lea