It's Crim Time! What you need to know for 2013
by RunMichigan Staff
,
Aug. 23, 2013
By RunMichigan.com Staff,

FLINT, MI -- It's that time of the year again, for one of Michigan's best and longest running road racing events -- the world-class HealthPlus Crim Festival of Races. This long-standing Michigan running tradition not only brings in some of the best runners in the world, but always brings out the best runners in Michigan.

A number of changes have been put in place for this year's Crim. Here are some of the things you'll need to know for 2013.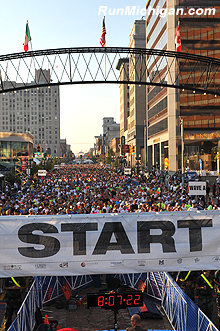 The biggest change for both runners and spectators will be the 10 Mile course. The start and finish remain the same. However, the first couple miles have changed as the normal early route back through the downtown area has been replaced.

10 Mile runners will now get a full loop around the University of Michigan, Flint campus before heading back west toward the two mile point and the rest of the course. Most of the remainder of the course after 2 miles is roughly the same as before.

According to Crim race director Andrew Younger, the early race course change for the 10 Mile will help in a number of ways.

"The first two miles we decided to re-route, for a couple of reasons. Mainly because we wanted to improve the runner experience, both at the start and at the finish," Younger said. "Now we have more room for runners to gather at the start and it's a smoother walk through when they finish."

In addition to the 10 mile course changes, new starting times have been put in place for both the 8K and the 5K. The 8K will now start at 9:00 a.m., while the 5K will start at 9:30 a.m.

Younger also felt that the time changes for these races will be good for everyone involved.

"We think that's going to make it a little easier, not just for our runners, but for our volunteers who really spend a lot of time out on the road, making sure our runners are safe. We think that's going to be an exciting change and really improve the experience for everyone," he said.

The other big change is that the Michigan Mile has now moved away from Saturday morning to its own spot on Friday evening.

This includes the new "Professional Mile", presented by The Running Institute -- the same group that brought the recent, highly successful mile event to Saline High School on August 4.

A number of the runners who were at that event will be competing in Flint Friday evening, shooting once again for the prestigious sub-4 minute mile barrier. Many of these runners have PR's below that mark.

In addition to some of the top men who will be competing in the Professional Mile, a high-class field of women's milers will be on hand as well.

The includes 2012 Olympian and Grand Blanc native Geena Gall, 2013 World Track and Field 1500 meter runner Nicole Sifuentes and 2013 Ryan Shay women's mile champion Heather Kampf.

Both Gall and Sifuentes are former University of Michigan Track and Field athletes.

In addition to the Professional Mile, Friday evening's mile racing activities will include a new High School Challenge and then the Open Michigan Mile for all participants, no matter their ability.

As usual, RunMichigan.com will be on hand for photo coverage, interviews and more from all races. Check back after the race for all the highlights and photos.

Additional information for the 2013 HealthPlus Crim Festival of Races

10 Mile Course Map

8K Course Map

5K Course Map

Full Event Information

Time Schedule

Friday, August 23, 2013

Professional Mile: 7:15 p.m.
High School Challenge: 7:20
Open Michigan Mile: 7:30

Saturday, August 24, 2013

10 Mile Wheeler/Hand Cyclist Start: 7:30 a.m.
10 Mile 30 year + runners start: 7:45 a.m.
10 MIle start, all runners: 8:00 a.m.
8K Run: 9:00 a.m.
8K Walk: 9:10 a.m.
5K Run: 9:30 a.m.
5K Walk: 9:40 a.m.
Teddy Bear Trot: Noon