Oakland U's Brittni Hutton joins American Distance Project in Colorado Springs
by RunMichigan Staff
,
Aug. 18, 2013
Additional information provided by
American Distance Project
By Dave McCauley, RunMichigan.com

Former Milford High and O.U. Golden Grizzly runner looking to prove herself at the next level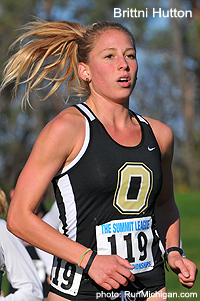 (Rochester, Michigan) - Recent Oakland University graduate Brittni Hutton has committed to joining the American Distance Project to train in Colorado Springs and will compete for adidas/Boulder Running Company.

The American Distance Project is a non-profit organization whose primary goal is the development of American distance runners to be internationally competitive. The ADP is located in Colorado Springs.

Hutton completed her career at Oakland earning USTFCCCA All-Academic honors. She was the 2012 Summit League conference cross country champion and holds personal bests of 9:51.57 for 3k, 16:40.13 for 5k and 34:56.38 for 10k.

Hutton, who ran her high school track and cross country at Milford High School, also earned two third-place finishes at the Summit League Championship while at O.U. -- in the 3,000m steeplechase (10:45.30) and 5,000m run (16:59.31).

She joins Rochelle Kanuho, a recent graduate of Northern Arizona University as the newest ADP members. Kanuho earned NCAA All-American honors with her 15th place in the 10k at the 2013 NCAA Championships.

For Hutton, this next step in her running and racing career will be just a continuation of her love of the sport and a way to prove herself even more.

"I'm doing this because I don't see a limit. I don't pressure myself to run. I am doing what I am passionate about," Hutton told RunMichigan.com.

She also realizes the work that will be involved in order to take that next step toward her ultimate goals. Her P.R's of 16:40 for 5000 and 34:56 for 10K are definitely impressive, but she understands more will be needed to get to where she wants to be.

"I know I am not the best right now, but that doesn't matter because I will be the best when the time comes. I will be running with the future 'Shalane Flanagans' and 'Jordan Hasays'. I cannot wait to see the strength my legs will show at future races. I am extremely excited for this opportunity and I cannot wait to be the winner carrying the American flag."

The American Distance Project was founded in 2006 and has provided coaching for developing American distance runners including Fernando Cabada (American Record Holder for 25k), and US National Team members that have included Alisha Williams, Wendy Thomas, Fasil Bizuneh, Stephanie Herbst-Lucke, and Stephanie Pezzullo, among others.