Ritzenhein forced to pull out of 2013 Shamrock Shuffle 8K
by RunMichigan Staff
,
Apr. 4, 2013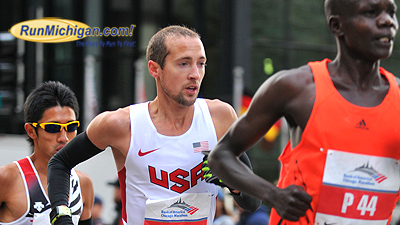 by Dave McCauley, RunMichigan.com
Rockford's Dathan Ritzenhein will not be running this weekend's Bank of America Shamrock Shuffle 8K in Chicago as planned. The Shamrock Shuffle, the world's largest 8-kilometer road race with 40,000 participants, is scheduled for Sunday, April 7.
Ritzenhein, who is coming off an incredible year in 2012 which saw him finish 4th at the U.S. Olympic Marathon Trials in January, make his third Olympic team last summer and then run a personal best of 2:07:47 at the Chicago Marathon in October, has been forced to withdraw from this year's Shamrock Shuffle 8K due to a leg strain.
He doesn't feel however that it is anything major which would prevent him from moving forward with his plans to compete at the Bank of America Chicago Marathon this fall.
In a statement sent to Bank of America Shamrock Shuffle race officials, Ritzenhein communicated his disappointment in having to miss out on this year's event.
"Regrettably, I won't be able to compete in this weekend's Bank of America Shamrock Shuffle due to a leg strain. I'm sorely disappointed to miss out on this year's race, which is shaping up to be the most competitive edition ever, but I'm looking forward to coming back for the marathon on October 13th."
In talking with RunMichigan.com this past February, Ritzenhein spoke of how he is looking forward to 2013 and hoping to repeat his success of 2012, in both his workouts and his races.
"I just want to keep going with the momentum I built from last year. Hopefully I can try and do the same thing I did last year -- run some track, really work on my speed and come out of it again and be ready for the marathon again in Chicago."
Prior to Chicago this October, Ritzenhein will be pointing to a spot at the 2013 World Track and Field Championships to be held in Moscow this August.