Former Rochester Adams runner is top state finisher at NCAA D1 Cross Country Championships
by RunMichigan Staff
,
Nov. 19, 2012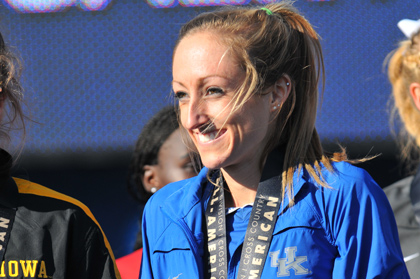 Cally Macumber

by Dave McCauley, RunMichigan.com

LOUISVILLE, KY -- With the University of Michigan capping off a great 2012 season with their fifth place team finish and with other notable runners hailing from the state of Michigan receiving a lot of attention, slightly overlooked at this year's NCAA Division One National Cross Country Championships was the somewhat surprising, but excellent top ten performance from a 2009 graduate of Rochester Adams High School.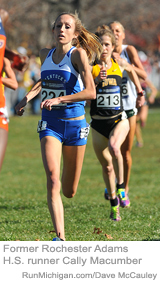 In only her first ever trip to the nationals in cross country, the University of Kentucky's Cally Macumber ran to a personal best time of 19:42.2 for the women's 6K course, finishing in sixth place overall in a very elite field at the 2012 NCAA Division One Cross Country Finals in Louisville, Kentucky on November 17.

The winning women's time for the meet was turned in by Iowa State's Betsy Saina, finishing in 19:27.9.

For those unfamiliar with the 6K cross country distance, it is just over 3.7 miles. Macumber's pace for the championship meet was 5:17 per mile. Although not directly comparable, her best time for 5000 Meters on the track (outdoors) was 16:19.13. So this definitely will set her up for a great track season.

Macumber, currently a junior at Kentucky, had a great high school career at Adams under Coach Bud Cicciarelli. Macumber was a three-time All-State selection in her final three years of cross country at Adams, highlighted by a third place overall finish at the 2007 MHSAA Lower Peninsula Division One Finals.

She was a Regional Champion as a junior and regional runner-up in her senior year along with earning All-Region, All-County, All-Area and All-League cross country honors each of her four years and was also named cross country MVP twice.

In her brief running career at the University of Kentucky, Macumber has had great success, being one Kentucky's top distance runners as a sophomore. She led the Wildcats in the 1,500 Meter and and 5,000 Meter runs, was her school's top 1,500 Meter runner at the Florida Relays, finishing in a time of 4:24.32 and finished first among Kentucky runners in the 5,000m run at the Payton Jordan Invite, earning a season-best time of 16:19.13 -- the fourth best time in program history. She has also had a breakout cross country season this fall, winning both the Southeastern Conference and NCAA Regional Titles.

For Macumber, the National Cross Country Championships experience was a bit of an unknown coming into the race. However, she handled it with confidence, not getting overwhelmed or distracted by the fast, large field.

"I didn't know what to expect. It's my first time being here and I just went out hard, trying not to get stuck in the pack. I just ran!" She commented after the race. Macumber praised her Adams High School coach for helping her to get to this level. "I had a really good coach in high school -- Coach Bud -- and he just made the training gradual. And here (The University of Kentucky) it's been gradually increasing. This year I did the most mileage I think I've ever done and that's really helped me."

Macumber now will look forward to the Indoor Track season and look to build off this great success in cross.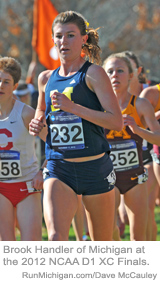 In addition to Macumber, the Rochester, Michigan area was again well represented at the NCAA D1 level with former Rochester High School state champion in both track and cross country, Brook Handler, finishing in 75th place overall in 20:36.7 to help her University of Michigan teammates to a top five finish as a team.

Also contributing to the Wolverine's fifth place finish was another former Rochester Adams High School runner, Lindsey Hilton. Hilton ended up in 94th place in a time of 20:46.3. Both Handler and Hilton were among The University of Michigan's top five runners individually.

And Megan Goethals of the University of Washington finished 48th overall, leading her Husky squad to a top-ten team result. Goethals, the former two-time State of Michigan Cross Country Champion and Footlocker National Champion from Rochester High School, has been slowed by a stress fracture this 2012 season.

Coming back from the injury, Goethals was running in only her third race of the season and her time was 20:21.7. Goethals will now look to improve on her very successful 2012 track season at Washington where she finished off the outdoor track and field campaign as the National Runner-Up in the Women's 5000.