Grand Valley women's XC wins national NCAA D2 title, Calvin men second in D3
by RunMichigan Staff
,
Nov. 17, 2012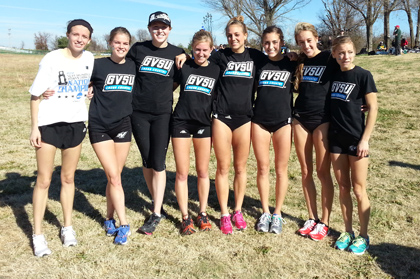 By Steven Marcinkowski, RunMichigan.com

JOPLIN, MO -- The 2012 NCAA Division Two Men's and Women's National Cross Country Championship was held in Joplin, Missouri on Saturday, November 17th. The teams from Grand Valley, Ferris State and Saginaw Valley State were all in action, as well as several individual qualifiers from the State of Michigan.

The big news on the state was made by the Grand Valley State University women's team, who barely edged out a powerful Augustana (IL) team to win the 2012 National Championship. The Laker women defeated second place Augustana by just 3 points. Grand Valley was led in the 6K women's event by Freshman Jessica Janecke who placed 4th overall with a time of 20:23. Closely behind Janecke was Sophomore Allyson Winchester in sixth with a time of 20:29. The remaining members of the team were Hannah Osborn (26th-21:08), Madie Rodts (42nd-21:25), Courtney Brewis (51st-21:36), Monica Kinney (86th-22:03), and Kelcie Severson (99th-22:20).

Also in the women's race, Saginaw Valley State placed 12th with a score of 346. Lauren Hill and Emily Short led the way for the Cardinals with their 19th and 20th place finishes in 21:05 and 21:06, respectively. Taylor Stepanski finished 68th overall in 21:51 with her teammates Teha Ames (117th 22:31), Amanda Paris (187th 23:13), Tori Peet (194th 23:21), and Chantelle Fondren (244th 25:18) all turning in solid performances.

The Ferris State women's team placed 22nd with 534 points. Senior Alyssa Osika led the team with a 104th place finish in 22:22. Behind Osika was Jordan McGuire in 22:23, good enough for 106th place. Samantha Johnson (131st-22:38), Haleigh Przybylek (148th-22:45), Kristie LeSage (151st-22:47), Breeann Ovokaitys (205th-23:34), and Kayla Smith (231st-24:41) rounded out the rest of the Bulldog women's team.

In the men's 10K championship race, The Grand Valley State squad finished in 7th place with 222 points. The Lakers were led by Senior Stephen Fuelling with his 18th place finish in 30:02. Behind Fuelling was fellow senior Jake Isaacson with his 33rd place finish in 30:15. Josh Moskalewski (53rd-30:45), Joe Duff (78th-31:03), Brent Showerman (82nd-31:06), Alan Peterson (96th-31:27), and Spencer Pageau (243rd-35:51) finished out the team scorers for the Laker men.




Also in the men's race, The Bulldogs of Ferris State finished in 13th with 370 points. Leading the way was Junior Brandon Cushman with his 55th place finish in 30:46. Andrew Harper (85th-31:10), Tyler Crossman (89th-31:19), Alex Bladecki (99th-31:30), Ryan Chute (113th-31:38), David Silversmith (162nd-32:10), and Spencer Gerber (188th-32:36) all turned in excellent performances.

Individually, Joshua Mirth of Hillsdale College finished in 31st overall in 30:10. Amanda Brewer also competed individually, running 21:08 in the 6K women's race, good for a 25th place overall finish.

Colleges from Michigan also were on hand in Terre Haute, Indiana for the NCAA Division Three National Championship Meet.

The Calvin College men's team finished as the national runner-up with a score of 188 points, narrowly defeating 3rd place Haverford by 1 point. Seniors Nick Kramer and Job Christiansen finished 18th and 24th in 25:01 and 25:05 for the 8K race, respectively.

Another Senior, Dan Kerr finished in 32nd overall with a time of 25:14. Matt Vander Roest (171-25:30), David Vande Bunte (184-25:34), Greg Whittle (195-25:39), and Sam Kerk (139-26:40) all ran great times to help the Knights to the second place team finish.

For the women, Hope College wrapped up a successful season by finishing in 10th place with 328 points. Sheri McCormack was the first finisher for Hope, crossing the line 37th overall in 22:03. Meredith Busman (78-22:35), Sharon Hecker (79-22:35), Camille Borst (117-22:52), Taylor Mattarella (173-23:16), Megan McCardel (232-23:51), and Julia Stock (259-24:21) rounded out the rest of the hope team.

The Calvin women placed 18th with 413 points. The Knights women's team was made up of Kate Ardinger (100-22:45), McKenzie Diemer (111-22:50), Christine Hartley (114-22:51), Alyssa Penning (132-22:57), Kimby Penning (149-23:04), Alyssa Oram (153-23:06), and Nicole Michmerhuizen (220-23:41).

Individual qualifiers Paul Lewis and Matt Melvin of Albion finished 93rd in 25:38 and 176th in 26:14, respectively. From Hope College, Blake Rottschafer finished in 195th with a time of 26:20.

With all the NCAA championships being held in the Midwest, NAIA competitors from Michigan needed to travel out to the Pacific Northwest as the 2012 NAIA Cross Country Championships were held in Vancouver, Washington, also on Saturday the 17th.

The success for the Grand Rapids area continued, as the women's team from Aquinas finished in 7th place. Finishers for Aquinas were Alina Dhaseleer, Rachael Steil, Britta Patterson, Carley Woolcott, Catie Reitsema, Jamie Sansone, and Crysta Pagdnelli.

The Aquinas men also ran well as they did the women two places better, ending up in 5th. Grant Gunneson, Dan Foley, Jacob Towne, Kevin Mahar, Stephen Glinski, Brendan Molony and Jeff Cherry all ran well to help their team place high.

Michael Blaszczyk, former Novi High School all-state runner, helped his St. Francis (Ill.) to the National title. He finished 2nd for his team with a time of 25:10.

Congratulations to all Michigan athletes who competed over the weekend. For complete results, visit the RunMichigan.com Results page.

Pictured at top is the GVSU Women's Cross Country Team (Photos: Josh Eberly/RunMichigan.com)