Michigan women take fifth overall at 2012 NCAA Cross Country Championships, MSU women 16th
by RunMichigan Staff
,
Nov. 17, 2012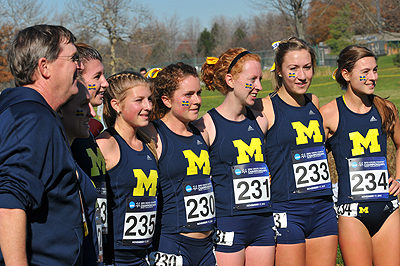 Photo gallery (More photos coming soon)

by Dave McCauley, RunMichigan.com

Louisville, KY -- Going into the 2012 NCAA Cross Country Championships, the University of Michigan women were coming off two huge victories -- the Big Ten Conference Title and the NCAA Division One Great Lakes Regional Title. And with a sixth place ranking heading into the championship meet, their sights were set on a great finish.

The Wolverine women did not disappoint, finishing in fifth place overall at the NCAA Division One Championships in Louisville, Kentucky on Saturday, November 17.

For Michigan head coach Mike McGuire, that top five finish was definitely attainable. "We were ranked sixth going in, so we wanted to at least hold serve on that and see if we could pick a team or two off," McGuire commented after the race, as the Wolverines were awaiting the official word on their finish. He added, "we would have liked to have gotten on the victory stand but we were 15th last year and to move up to 5th, we're back on the national scene."

Leading the way individually for Michigan in the women's 6K race was senior Jillian Smith. Smith's time of 20:24.0 was good enough for 52nd place overall. Just two seconds behind Smith was her teammate Rebecca Addison (Grand Haven H.S.) who placed 56th overall in a time 20:26.3.

Rounding out the top 5 scorers for the Wolverines were Adrian, Michigan's Amanda Eccleston (61st, 20:28.6), former Rochester High School state champion Brook Handler (75th, 20:36.7) and Rochester Adams grad, Lindsey Hilton (94th, 20:46.3).

For the Michigan State women's team, Sara Kroll was the top finisher in a time of 20:24.2 which placed her in 53rd overall. The Spartan women as a team finished in 16th place. Kroll, from Westland, was the 2012 Big Ten Conference Individual Champion.

In the women's team competition, after some confusion with the scoring and timing which had a number of teams not sure what was going on, Oregon ended up first with 114 points while second went to Providence with 183. Stanford was third and Florida State, the pre-race favorite coached by former University of Michigan runner Karen Harvey, took fourth.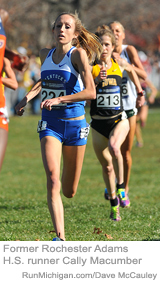 One of the best finishes by someone with a Michigan connection was turned in by former Rochester Adams High School athlete Cally Macumber. Macumber, a Junior at the University of Kentucky, finished in sixth place overall in a time of 19:42.2. This was Macumber's first trip to the national meet in cross country. Meanwhile, Rochester High School's Megan Goethals, the 2012 NCAA Division One Outdoor Track and Field 5000 Meter National Runner-Up, finished in 48th place overall in 20:21.7. Goethals, hampered by a stress fracture injury for most of the fall, was running in only her third race of the 2012 cross country season.

The overall winner in the women's race and 2012 National Champion was Betsy Saina of Iowa State University, who narrowly edged out Oregon's Jordan Hasay and Dartmouth's Abbey D'Agostino. Saina's time was 19:27.9 while Hasay and D'Agostino ended up with identical times of 19:28.6. For Hasay, the hurt of being edged out again for a national cross country title was quickly put aside as she led her Oregon Ducks teammates to the National Title.

"I couldn't think of a better way to end my senior year," Hasay told RunMichigan.com after the race. "We just all knew that if we run our best we could have a pretty good performance today and we did it and it's a great feeling."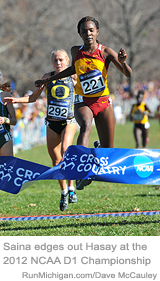 The fairly flat and fast course on the grounds of the E.P. "Tom" Sawyer State Park in Louisville along with the sunny skies and temperatures around 50 degrees, made for some excellent times for both the men and women.

In the men's 10K race, our state was also represented by the Wolverines of Michigan and the Spartans of Michigan State with Michigan placing 23rd and Michigan State ending up 31st.

The overall winner in the men's race was Kennedy Kithuka from Texas Tech in a time of 28:31.3. Former State of Michigan high school champion Maverick Darling (Ovid-Elsie H.S.) rounded out his great career with the University of Wisconsin by finishing in 11th place overall. Darling's time was 29:30.5 which helped his team to National Runner-Up finish.

The National Title for the men went to Oklahoma State University. Colorado, Northern Arizona and Florida State completed the top five.