Wolverine women take NCAA Regional Title, ranked 6th heading into national meet - MSU women, UM men second
by RunMichigan Staff
,
Nov. 9, 2012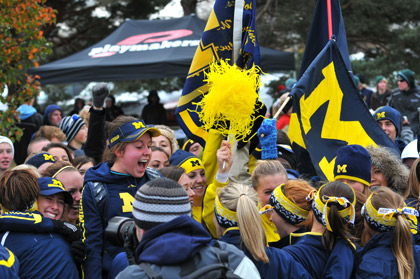 By Steven Marcinkowski, RunMichigan.com

Madison, Wisconsin -- The 2012 NCAA Division One Great Lakes Regional Cross Country Meet was held Friday, November 9th at the Thomas Zimmer Championship Course in Madison. Men's and women's teams from Michigan, Michigan State, Central Michigan, Eastern Michigan, Western Michigan, Oakland and Detroit Mercy were all in action.

The meet, hosted by the University of Wisconsin, was the qualifier for the NCAA Division One National Cross Country Championships, which will take place in Louisville, Kentucky on November 17.

The women's 6K race was up first. During the race, several groups of Michigan and Michigan State runners littered the lead packs for the majority of the time. The race finished with the University of Michigan women taking home the title.

With a score of 41 points, the Wolverines placed 5 women in the top 13. Jillian Smith was the top Michigan runner, finishing in 4th place overall in a time of 20:14. Former Grand Haven High School runner Rebecca Addison finished in 7th place while Shannon Osika (Waterford, MI/Mott H.S.) ended up 8th. Michigan's Lindsey Hilton (Rochester, MI/Adams H.S.) was 9th and former Rochester High School state champion Brook Handler finished 13th. Amanda Eccleston (Adrian, MI/Tecumseh H.S.) in 32nd and Taylor Manett (Rockford, MI) in 47th, rounded out Michigan's top seven.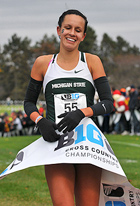 For the Spartans of Michigan State, they finished in 2nd place in the women's race with 77 points. Junior Sara Kroll, the Livonia Churchill graduate and recent Big Ten Conference Individual Champion, led the team with a 3rd place finish in 20:12. Sophomore Leah O'Connor (Crosswell-Lexington H.S.) was 2nd for the team and 12th overall with a 20:41 mark over 6k. 17th place Julia Otwell, 21st place Lindsay Clark, 24th place Olivia Sydow, 26th place Rachel McFarlane and 36th place Megan Rodgers finished up the Spartans top seven.

With their first and second place finishes, the women of Michigan and Michigan State have qualified for the NCAA National Championship on Saturday, November 17th. At large bids for the women's field were awarded to Notre Dame and Butler University Great Lakes Region with their 3rd and 4th place finishes.

In the men's 10K race, the Wisconsin Badgers ran away with the competition. With finishes of 1st, 5th, 6th, 15th and 16th, they scored 43 points. 5th place finisher, Maverick Darling is the former Michigan Division three high school standout from Ovid Elsie High School.

Michigan placed 2nd with 73 points. The team of Dan Lowry (3rd, 30:46), Mark Beams (13th, 31:24), Brendon Blacklaws (14th, 31:27), Morsi Rayyan (19th, 31:38), Zach Ornelas (24th, 31:46), James Yau (58th 32:26) and Nick Kern (116th 33:33) also qualified for the National Championships.

Michigan State's men's team finished in 4th place with 113 points, missing out on 3rd place by only 6 points, right behind Indiana University. Alex Wilson led the team with a 17th place finish in 31:30. His teammates Caleb Rhynard (21st, 31:40) and Josh McAlary (22nd, 31:42) received all-region honors, awarded to the top 25 individuals. David Madrigal (26th, 31:50) and Ben Miller (27th, 31:51) nearly reached the all-region threshold with their performances. Ben Carruthers (47th, 32:16) and Drake Veitenheimer (74th 32:48) complete the top 7 for the Spartans.

Wisconsin and Michigan received automatic bids to the men's national meet, while Indiana, Michigan State and Notre Dame all received at-large bids.

The Eastern Michigan women's team placed 11th with a score of 345 points. Central Michigan finished in 14th with 453 points while Oakland scored 665 points for a 22nd place finish. Western Michigan ran to a 27th place finish with 755 points and Detroit Mercy was 28th with 804 points.

For the men, Central Michigan finished 12th with 340 points. Eastern Michigan tied for 13th place with Cincinnati with 367 points. Oakland finished in 23rd place with 610 points while Detroit Mercy was 24th with 670.

Congratulations to all athletes from the state of Michigan who competed at the NCAA Great Lakes Regional Championship Friday.

RunMichigan.com will keep you updated on all the action from this Saturday's NCAA D1 National Championships.