Jul. 29, 2012
Desi will be at starting line for Women's Olympic Marathon
Leave a Comment
By Dave McCauley, RunMichigan.com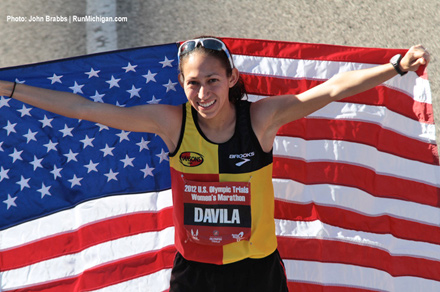 Desi Davila, who has been battling a hip flexor injury, will be at the starting line of the 2012 London Olympic Women's Marathon.
The women's Olympic Marathon is scheduled for the morning of August 5. Davila resides and trains in Rochester Hills with the Hansons-Brooks Distance Project team, which is coached by Kevin and Keith Hanson.
In an email statement sent by Kevin Hanson for a story in the Detroit Free Press on Sunday, July 29, Hanson said that the very tough decision had been made to have Desi withdraw from the race due to her injury. In that same story, the Free Press also reported that Davila then had a change of heart and a final decision had been postponed.
Now according to Hanson in a communication to RunMichigan.com Sunday afternoon, after a meeting on Sunday with Desi and the the USATF (track and field's governing body in the U.S.) coaching staff, the decision was made that Desi would be at the starting line and will run.
There is much hope that Desi's discomfort from her injury will subside and that all the hard work she has put in with various forms of cross-training over the past few weeks will pay off. Whatever the outcome, nothing can take away the success that both Desi and the entire Hansons team has achieved so far.
Davila is the second Hansons-Brooks runner to qualify for the Olympic Games. Brian Sell was the other, competing in the men's Olympic Marathon in 2008. Davila also put in an amazing performance at the 2011 Boston Marathon, finishing in second place with a time of 2:22:38, missing out on the overall title by only 2 seconds.
For more information on those USA Track and Field atletes with Michigan connections at the London games,
click here
.