Jul. 25, 2012
50 years later, the love of the sport and respect for each other still shine through
Leave a Comment
By Steve Marcinkowski, RunMichigan.com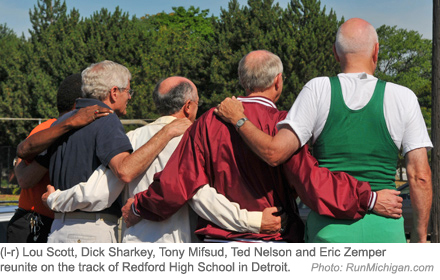 This year marks the 50 year anniversary of one of the greatest high school mile fields in the history of the State of Michigan.
"A Mile of Smiles", a Detroit Free Press article that ran May 20, 1962, featured four of the greatest high school milers the state of Michigan had seen up to that point. The article included a photograph taken by legendary Free Press photographer Tony Spina of the four milers. Dick Sharkey, Tony Mifsud, Ted Nelson and Eric Zemper were all vying for the state mile title in 1962. Dick Sharkey, Redford High School star and Tony Mifsud of Cody High School were shooting for the 1962 Class A mile title while Ted Nelson of Milford High School and Howell High School's Eric Zemper were competing at the Class B state meet.
Fast forward 50 years and two months from the print date of that article to Saturday July 21, 2012 where a 50 year reunion in honor of these four tremendous runners was held at the old Redford High School in Detroit. As with any reunion of old friendships, the day was full of reminiscing about old racing memories, fun stories and catching up on the last 50 years.
Also present at this event was Lou Scott, former Detroit Eastern High School standout.
Despite graduating from high school many years ago, each of these men is still involved in the sport he loves.
Following Tony Mifsud's career at Cody, he went on to run at Spring Arbor College and then Eastern Michigan University under legendary coaches George Marshall and Bob Parks. Upon graduation from Eastern, Tony was in a car accident that doctors thought would leave him paralyzed. Being as optimistic and driven as he is, he was determined to prove the doctors wrong. "I've been running 80 miles a week, doesn't that count?" he remembers saying. Following many months of recovery and rehab, he was able to walk but still uncertain of the possibility to run again. Fortunately, Tony did run again and has continued to serve the sport he loves.
Tony has held several head coaching positions including ones at University of Michigan Dearborn, Henry Ford High School, Allen Park High School, coaching his three children in the process, Southgate High School and finally Dearborn Divine Child High School, where he has been since 2001. In June, the Lady Falcons of Dearborn Divine Child were named Co-Champions at the 2012 MHSAA Division Two Track and Field State Meet.
Ted Nelson, upon graduating from Milford High School in '62 went on to Western Michigan University on an athletic scholarship to run for the Broncos. While at Western, Ted helped his team reach the NCAA cross country championships, where they won the title in 1964 and 1965. Ted had a tremendous impact on the future of Milford track and field and cross country as well as the program at Western.
In 2004, Ted was inducted into the Milford High School Hall of Fame. In the last several years, he felt he has connected more with the coaches and administration upon his induction into the hall of fame. Gene Balawajder, former Milford Athletic Director, actually competed against Ted during their running careers. He believes that the reconnection with his Alma Mater was due, in part, because of Gene. In talking about the coaching staff and administration, "I really respect their effort to make it more than just winning", he explained. He went on to describe how the coaching staff does a great job with caring for their athletes health and well-being; the way high school and collegiate sports should be.
In Eric Zemper's senior year, he won the Class B mile at the state meet for the Howell Highlanders in a time of 4:22.3. After his career at Howell, he went on to run for the Michigan State Spartans. While running for MSU, Eric set many school records, including the mile run.
In his post collegiate running career, Eric returned to MSU to receive both masters and doctoral degrees. He currently serves as Director for the MSU Varsity Alumni 'S' Club. Eric is also a very successful track and field official. He was chosen as a track official for both the 1984 Los Angeles and 1996 Atlanta Olympic Games. In London, he will be in charge of overseeing the officials as one of a handful of International Technical Officials for the International Association of Athletics Federation.
Dick Sharkey graduated from Redford in 1962. He then went on to run for the Michigan State Spartans with his former competitor, Eric Zemper. Among several impressive accolades, he was 10th at the 1963 NCAA Cross Country Championship where he received All-American honors and won the Big Ten indoor two mile run in 9:01.4 during his senior season in 1966.
Despite moving on from Redford, Dick still reminisces about his former track and field days. "This (Redford H.S) was the best track in the state", he said. What many people did not realize is that all Detroit Public School teams were barred from state competition from the early 1930's until 1961. Dick's senior season was the first year that he would be able to compete at the state cross country and track and field meets. He won both the city and state cross country meet in his senior season. During the 1962 Outdoor Track and Field season, he received some heavy competition from Lou Scott, the Detroit Eastern High School Junior.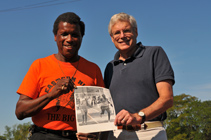 Sharkey had won his previous 21 meets in track and cross country. In his final state meet, Dick was vying for the mile crown, but Lou had something to prove. Lou edged out Dick by 5 yards crossing the line in 4:17.4, setting the meet record. Though Lou beat Dick in the state meet, there was still one final meet of the year. The Detroit City Championship took place two weeks later at Redford High School, Dick Sharkey's home track.
Lou recalls, "Knowing that I had to run him here at Redford two weeks later on his home track, at his last meet. I was terrified. I knew that I couldn't surprise him. And I remember riding the bus to Redford, it was like going to my own funeral. I was just that afraid. But the miracle is, my Auntie asked me 'Do I want to win?', I said of course I do. She said 'Well repeat this, Philippians 4:13', which states I can do all things through Christ which strengthen me."
Prior to the race, Dick Sharkey's coach, Bruce Waha, wrote a note in the gym for Dick to study. Dick was to run 2:05-2:06 for the first half. Waha also went on, "If Lou goes by you, go with him". With the first half of this race running as planned, Dick had a 15 meter lead on Lou. In the final lap of this historic mile race, Lou slowly caught Dick and eventually separated from him. The last few meters was anyone's race to take. Lou can recall looking at the ground and seeing a half step on Dick, which was all he would need.
Their times were the two fastest in Michigan high school history at that time. Lou crossed the line in 4:13.2 to Sharkey's 4:13.4, an unbelievably close margin. Lou's time of 4:13 was coincidentally the same verse that his aunt told him to memorize. Tony Mifsud also competed in this race. He finished third in 4:21.5, a time that would have won the state meet the previous two years had Scott and Sharkey not raced.
Despite being each other's biggest competitors, they were also one another's biggest fans. Lou's high school role model was Dick Sharkey. He knew that in order to accomplish his goal of becoming a college runner, Lou had to run as well, or better than Dick.
In Lou's senior year, he believed "the only way to beat the champion and to maintain the championship was to know my opponents". He read countless books on distance running and the mile specifically to help him grow as a runner. Lou would run around Belle Isle every morning before school. This hard work and determination allowed him to win both the city and state cross country championships that fall. During the spring, Lou won the state meet in 4:13.2 breaking his previous meet record set a year prior. At the city meet, Lou won the 880 yard run for his Eastern High team in an impressive record setting time of 1:54.3. He also ran on the second place mile relay team, which secured a second place finish for Eastern High School.
Lou continued his passion for running at Arizona State University. He competed at the mile, two mile, three mile and eventually the 5k. Lou still remains in second place on the outdoor record board for the 5,000 meter run and 8th place for the 1 mile run. In the 1967 Pan-Am games, Lou took second place in the 5,000 and in the following year, was selected to the 1968 Olympic Games in that event.
This reunion was great for all to catch up on the last 50 years. "It is good getting back with Lou" Dick said. He continued saying "I always respected him very much and I never really had a chance to congratulate him for all the good running that he'd done." Lou's response embodied the amount of respect he and the others had for one another. "No, you did. When I won the state meet, in the picture you had your hand on my shoulder. I never will forget that."
It is truly remarkable that five of the best milers in the nation at that time all lived in the same area. For their time, they accomplished many feats that many still have not attained today. In the age of dirt tracks, the times they ran were impressive, to say the least. We honor these men for their continued support of the sport we love.
[Additional images and further details can be found by
clicking here
.]