Jul. 9, 2012
Fast times and lots of fun highlight recent holiday racing
Leave a Comment
by Steve Marcinkowski, RunMichigan.com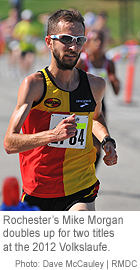 July 4th always lends itself to excellent road races throughout the state of Michigan.
The 37th Annual Volkslaufe, held in Frankenmuth, produced great times despite the warm temperatures. Drew Polley of Rochester Hills and the Hansons-Brooks Distance Project, crossed the line first in the 20K in a time of 1:08:09. 1:13:51 was good for a second place finish by Kevin Oblinger of Mount Pleasant. In the women's 20K race, Melissa Mantel of Chelsea, MI was the overall winner in 1:24:50. Second place finisher Sarah Martinez completed the 12.427 mile race in a time of 1:28:41.
The Volkslaufe 10K was won by Rochester's Mike Morgan, also of the Hansons-Brooks team, in 31:29. Alex Townsend, former Wayne State University Cross Country and Track runner was second to Morgan in 33:23. The women's overall 10K winner, Jackie Rzepecki of Rochester finished in a time of 37:43. Leah Foley of Clarkston was the second women's 10K finisher in 39:34.
10K winner Morgan, decided to come back and get in another hard effort, taking home top honors in the 5K as well with a time of 15:43. David Madrigal, current Michigan State University runner, cruised in for second place in a time of 16:11. Brandon Cushman of Saginaw took third in 16:29.
The women's overall winner in the 5K at this year's Volkslaufe was Kirsten Olling, the 2012 MHSAA LP Division 4 Girl's 3200 Meter Champion, of Breckenridge. Olling's time for the 5K was 18:26. Following Olling in second place was Karie McDonald from Frankenmuth.
The Hungry Duck 5K and Half Marathon was run in and throughout the city of Brighton.
Ryan Rau of Brighton was the first male to cross the line in the 5K with a time of 15:56. Current Ferris State Cross Country and Track runner, Connor LaRowe of Howell was second to cross the line in 16:18. The overall female open winner, Allison Lunau finished in a time of 19:27 while Pinckney's Kayla Boyes finished second in 19:40.
The Half Marathon was won by hometown runner Josh Partridge in a time of 1:17:34. Peter Newton crossed the line in 1:20:11 for a second place finish behind Partridge. The overall male Master's winner was Patrick Benedict in 1:23:38. Maureen Lang of Howell won the women's race with her time of 1:39:44. Finishing second in a time of 1:41:11 was Katherine Senne of Pinckney.
The Ann Arbor Firecracker 5K was also held on the 4th. Taking home first place was Thomas Noel of Ann Arbor with his time of 16:22. Ben Coffman, also from Ann Arbor, was second in 17:03. In the women's race, Annie-Norah Beveridge won in a time of 18:14. Hailing from Carlsbad, CA, Michellie Jones finished second in 18:44.
The annual Firecracker Mile held in Clawson produces great races each year with prize money on the line. In a race against the clock, Tony Filipek of Caro, MI won the race in 4:03.4. Tony was less than 4 seconds from breaking 4 minutes and receiving $1,000 in prize money. Ian Boyle and Jason Bigelow of Team Michigan Elite were second and third in 4:10 and 4:20, respectively.
The women's race had three finishers within 5 seconds of one another. Danielle Tauro of Ann Arbor won the race in 4:40, nearly breaking the 4:30 mark the women were vying for. Second place belonged to Sarah Boyle of Brighton in 4:43 while Rochester Hills' Rachel Patterson was third in 4:45.
The Boyne Independence Day Run, held in Boyne City, had great times in both the 10K and 2 Mile run. The 2 Mile came to a sprint finish with 4-tenths of a second separating Brandon McKay and Flynn Darby. McKay of North Aurora, Illinois won in 10:53.12 while Darby took second in 10:53.58. New Boston, Michigan resident, Rachel Yates was the first female across the line in 13:28. Second place female Claire Kendell finished the 2 Mile race in 13:37, 25th place overall.
The 10K was won by Caledonia's Mason Przybysz in 34:42. Second place finisher Josh Eccleston of Sterling Heights completed the race in 35:14. In the women's competition, Tina Smith from Hillsdale finished first in 40:45. Washington, Michigan resident Michelle Weymouth took home second place in 41:37. Fifty-year-old Tom Yates of New Boston was the Men's Masters Champion with a time of 36:20. RunMichigan's own John Brabbs of Rochester took second in the Men's Masters division.
On Saturday, the Pittsford Firecracker 5K Run/Walk was run in temps hovering around 90 degrees. Hillsdale's Zach Hardway won the 5k in a time of 18:02. Shortly behind Hardway, Brian Terry, also of Hillsdale was second in 18:18. Finishing in 20:01, the women's overall winner was Tina Smith, a Hillsdale resident. Following Smith was Hillsdale's Maddie Richards in 20:27.
The Kenya Dig It 5K and 10K Run/Walk also took place Saturday. Starting at Tecumseh High School, this event was created to better inform the public how members of third world countries both find and purify their water for consumption.
Matt Kemner was the 5K winner in 19:04. Following Kemner, second place belonged to 15 year old Isaac Westgate in 19:36. On the women's side, Christy Weidmayer was the overall women's champion crossing the line in 21:07 while Rachelle Sweet finished second in 22:29.
In the 10K, the male overall winner was William Brown in a time of 39:56. Robert Sedman ran 42:57 to take a second place finish. Julie McDowell as the women's 10K champion in a time of 53:44. Second place finisher, Jodi Stoiber completed the 10K course in 1:06:45
Congratulations to the participants in all races this past week. For the 4th of July and weekend race results, along with recent photos, please check out the links below.