Grand Valley Women Capture Second Straight Indoor Title, Hillsdale's Amanda Putt Wins 800 and Mile
by RunMichigan Staff
,
Mar. 11, 2012
by Dave McCauley, RunMichigan.com
For the second straight year, the Grand Valley State University Laker women have dominated the field at the NCAA II Indoor Track and Field Championships, held this year on March 9th and 10th in Mankato, Minnesota.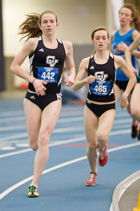 Finishing with 84 points, GVSU easily outdistanced runner-up Lincoln University of Missouri who ended up with 43 points. Hillsdale College, behind two individual national titles from Amanda Putt in the 800 Meters and the Mile, finished third with 33 points. This is the fourth straight year that Grand Valley's women's team has been either champion or runner-up.

The meet started out on a great note on day 1 as Grand Valley finished with three national titles - Junior Sam Lockart in the Women's Weight Throw (67-06.0), Sophomore Kristen Hixson in the Women's Pole Vault (13-01.50) and the Women's Distance Medley Relay team of Betsy Graney, Leiah Hess, Lisa Galasso and Rachel Patterson with a time of 11:23.35. That GVSU DMR team set a new NCAA II championship meet record.

On Saturday, Grand Valley Senior Lauren Buresh placed first overall in the Women's Shot Put with a distance of 52-10.25, and Laker Senior Rachel Patterson set a new NCAA II championship meet record for the 5000 Meters in a time of 16:07.28. In that same race (Women's 5000M), Christina Muir of Ferris State University place third in 16:25.42.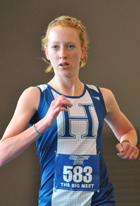 Individually, Hillsdale's Putt ran two great races, winning the Mile in a time of 4:47.84 and also the 800 Meters in 2:09.15. In that 800, Putt had to come from behind to beat Grand Valley's Chanelle Caldwell, who finished as the National Runner-Up in 2:10.26.

Other notable performances at the NCAA II meet included GVSU's Liz Murphy (2nd Place, Women's Weight Throw, 65-04.75), Kayla Caldwell of Hillsdale (2nd Place, Women's Pole Vault, 13-01.50), Jason Brenton of Lake Superior State (National Champion, Men's Triple Jump, 50-06.0), Sam Lockart of Grand Valley (2nd Place, Women's Shot Put, 52-04.75)