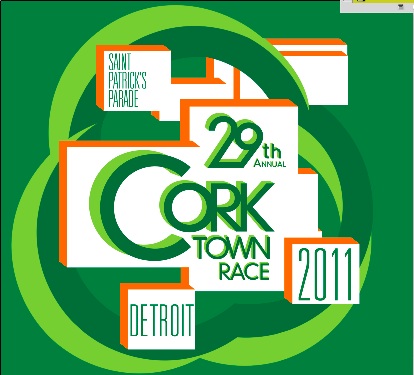 Last year's 28th annual
Detroit St. Patrick's Parade Corktown
Races observed its fifth straight record crowd with more than 5000 runners, almost 50% more runners and walkers than the previous year.
Runners and walkers responded well to the new race course which was changed to a 5km (3.1 mile). It started at noon and finished at Roosevelt Park in front of the Michigan Central train station.
New this year: Packet pick up and registration will be now be available at four locations from March 5th to March 11th. They include Total Runner specialty store located in Southgate, Hanson's Running Stores (in Grosse Pointe and Royal Oak only) and Running Fit (in Northville only).
This year's technical shirts will come with side panels and a brand new design. The web site has been updated significantly. For more information go to: www.corktownrace.com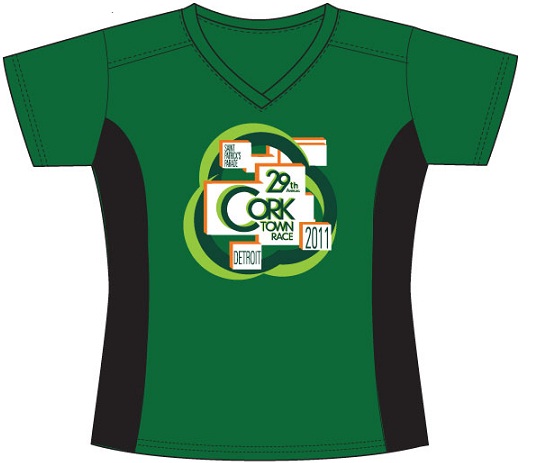 Race entrants are expected to join the St. Patrick's Parade spectators on Michigan Avenue at 2 pm.
Race co-directors Doug Kurtis, John Scott and Greg Everal hope participation continues to climb as it has for the past five years. They will be supported by co-host clubs, the Downtown Runners and Walkers as well as the Motor City Striders.
Runners are encouraged to bring canned goods to the registration tent. The St. Patrick's Senior Center in Detroit will be the beneficiary of race proceeds guided by the Fraternal Order of United Irishmen to help aid their food programs. Last year over 1000 cans of food were donated to the St. Patrick's food programs.
The Fraternal Order of United Irishmen will be on hand to distribute the exciting new technical shirts and post race refreshments courtesy of the Motor City Brewing Works and the Detroit Brewing Company. Wolverine Brewing Co. will support the volunteers.
The top fifty male and female finishers, as well as all runners over seventy, will receive beer mugs with the Corktown logo emblazoned on them. In addition, the best male, female and team costumes were judged prior to the start. All receive beautiful awards from the Twisted Shamrock. And prizes are grand for the numerous and appropriately named pub teams.
The first Corktown Race begins at 11:30 am with a FOUI bagpiper preceding the Kids quarter mile.
Parking will be available for participants and volunteers at the Canadian Pacific Railway parking lot on 17th street just south of Michigan Avenue. Last year, parking donations volunteers collected over $700 for the St. Patrick's Senior Center. Another $2000 was donated from runner entries.