STATE CHAMP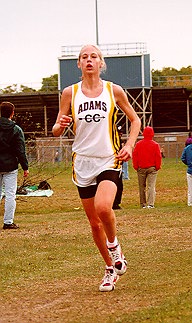 Katie Boyles
of Rochester Adams,
Class A State Champ
with a come from behind win
in the last 100 meters
Photo by John Brabbs
-RunMichigan.com!
Race Updates - posted from race site

By Dave McCauley - RunMichigan.com!

KATIE BOYLES KICKS
FOR CLASS A WIN
ANN ARBOR PIONEER TOP TEAM

"I didn't expect this at all." - Class A Girls Champ Katie Boyles

In a surprising upset, freshman Katie Boyles of Rochester Adams came from behind in the last 1/2 mile to take the '97 Class A Girls Individual Championship in just over 19:00 on a very muddy, very wet Michigan International Speedway course. Boyles used a strong second mile to put herself in a position to challenge for the title. Boyles felt her good race was due to the patience she showed at the start of her race. "I really think that I don't push myself too hard in the first mile. I just run my pace." That patience paid off for the freshman as her second and third miles were her strongest.

The most iteresting aspect of the race was the fact that Sharon Van Tuyl of Portage Northern, last year's state champ, fell back just before the 2 mile mark and was never a factor after that. A victory for Van Tuyl would have been her 4th in 4 straight years. Van Tuyl drifted back after about 2 1/2 miles and ended up in 54th place and a time of 20:35. This victory for the freshman from Adams was easily the best moment in her short running career. Boyles credited the help and support of her current coach Bud Cicciarilli and her former Van Hoosen 8th grade coach for her success.

In the Girls Class A team competition, Ann Arbor Pioneer used a solid team effort placing three runners in the top 20 of the very competitive A field to finish with only 68 points and the Class A Title. Leading the way for Pioneer was Co-Captain Emily Magner who finished in 8th overall. Amber Culp placed 14th overall and Co-Captain Erin Leonard finished in 19th to help Pioneer to their championship.

HARTMANN HOLDS ON FOR "A" BOYS TITLE

Despite not feeling his best on a muddy, rainy day, Jason Hartmann of Rockford held on for the Boys Individual title in Class A narrowly holding off Lake Orion Junior Jordan Deslets. Hartmann, who finished 9th at last year's finals and who has had an exceptional season of racing, was impressed by the tough field here at the '97 State Meet. Hartmann's next goal is to qualify for the national meet.

BROCKWAY TOP MALE IN CLASS B
CORUNNA TOP B BOYS TEAM

Richland Gull Lake's Nick Brockway takes the Boy's Individual Title with a time of 16:03. Brockway held onto first place by only 6 seconds. The senior will enjoy the post season as the fastest Class B runner on the day. Second overall went to Jamey Lister of Stockbridge with a time of 16:09. Andrew Vyncke of Marysville took third in 16:18. In the team competition, Corunna was the champion with a score of 74 points. The closest team to Corunna was Jackson Lumen Christi, way back with a total of 161. Third went to Grand Rapids Catholic Central just one point back of Lumen Christi with 162.

FREMONT EDGES WHITEHALL
IN GIRLS "B"
HARMONY DYKHUIS LEADS THE WAY

In the Class B Girls race, Fremont lead the way both individually and as a team, as Harmony Dykyuis's individual title in 19:41 propelled her team to a 111-118 victory over Whitehall. Miranda Makovic of Stevensville Lakeshore took second overall with a time of 19:50. The Fremont victory capped off a season of back and forth battles with rival Whitehall. Coach Herb Lindsey was very pleased with the win and felt the entire team contributed to the championship. "We've had 5 girls who have been running strong all season long." Lindsey had a feeling that this was going to be a tight race. "Battling Whitehall, we knew who our competition was from early in the season. We knew they were the team to beat today", he noted. One of the bright spots for Fremont was freshman Karen Hren who was Fremont's 2nd runner on the day and placed 13th overall. With only one senior on this year's team, the future looks great for cross country in Fremont.

CULP REPEATS AS D GIRLS CHAMP
MENDON TAKES TEAM TITLE

Mendon's Kasey Culp wrapped up a great high school running career with a repeat performance at the Class D Girls Championship. Kulp used the bad conditions to her advantage as she worked through the mud and water to capture her second consecutive individual title. In 1996, Culp edged out Betsy Speer of Whitmore Lake for the title. Culp enjoyed the rainy weather. "I like it when it's muddy, because it gives me a better mentality. I can play games with the course", she said.
In the team competition, Kulp's Mendon teammates came through and Mendon took the Girl's Class D Title with a total of 50 points, narrowly edging out Wyoming Tri-Unity Christian who finished with 60 points. Third place went to Whitmore Lake with 123 points. For Mendon Coach Art Bombrys, it was the culmination of a great season for a special group of runners. "They're just a great group of kids." They help each other and it's always a positive, encouraging atmoshpere at practice. They're a great group of kids whether they were 15th today or first today."

BREWSTER TAKES C GIRLS TITLE

Saginaw Valley Lutheran's Bethany Brewster made it another title repeat on the day as she once again lead all of the class c girls runners in an unofficial time of 18:45. Brewster was the 1996 State Champ. She was also selected as RunMichigan.com's September Runner of the Month.

BENZIE'S FLYNN WINS BOYS C

Benzie Central's Jake Flynn lead at the one mile mark and never looked back as he held on and took the Class D Boys Title in just over 16:00. For Flynn, a sophomore who finished 29th in last year's state final meet here at MIS, this was indeed one of the best races he's ever had. "This is the greatest feeling in my life", said the obviously excited Flynn. Flynn and team-mate Dylan Wade brought the field through the mile and Flynn held off the rest of the field for the title. "We've been working so hard", Flynn said.

LINDLEY WINS BOYS D TITLE

The 1997 Michigan High School State Cross Meet got underway with the boys class D race at 10:00 am. Weather for the firt race was a little damp as a steady but light rain was falling. At the one mile point, Kyle Lindley of New Buffalo was leading, coming through at 5:10. A little after the two mark, Lindley opened the lead up as he pressed toward his goal of a Class D Title.