Please visit our sponsors
BAD EXAMPLE

8-22-2002
During the Tour de France this summer it was posited that each day on the Tour was like running a marathon. Don't know who said it but the notion needs serious amending before it's accepted at face value. Cycling is much easier on the body than running and recovery faster as a result. Cycling four miles to one mile of running is a favorable comparison for workouts. Racing, however, throws the comparison out of whack.
Tour cyclers cover an average of 100 miles per day over 3 weeks with 2 rest days. The longest race I can picture runners being able to churn out on a Tour schedule in good time is somewhere between 10-15 kilometers per day. (I'm being generous with that amount.) This, then, more than doubles the favorable ratio of 4:1 to greater than 10:1. I've not consulted anybody on this or asked around. Just my best guess having sampled hard doses of both.
If I've made it appear Tour riders have it easy, think again. If the strain of racing doesn't make you crack, time in the saddle training for the Tour is a daunting, considerable sum. Tour riders also have few peers as managers of energy which includes tactics, fuel consumption and underappreciated rest. The Tour is a fascinating juggling act of human nerves and endurance. It's tempting to call Tour winner, Lance Armstrong, the greatest athlete in the world but I leave that debate to others.
If you do any cycling and don't own a helmet, please, please, buy or borrow one. Accidents happen. A 'brain bucket' has saved me unspeakable damage. I've kept the split helmet to prove it.
Best, Scott Hubbard
Scott says he enjoys a very casual running pace these days. Quite different from when he was tearing up the track at Huron High School or Eastern Michigan University. You can also find his columns in Michigan Runner Magazine. He graduated with a BA in English from Eastern Michigan. You've probably met Scott before but never knew it. Scot's voice can be heard at many of Michigan's best road races such as the Crim, Frankenmuth, the Mackinac Island 8 Mile Run and the Detroit Marathon as he lends his running expertise and style to the finish line announcing at those and other races.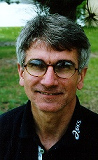 You can e-mail Scott at:
runningshorts@aol.com
All about
Scott...

hs & college
track & cross
high school:
ann arbor
huron, 1970
college:
Eastern
Michigan
1975
Coaching:
Ann Arbor
Pioneer girls track
& cross-country
'75-'79

U of Michigan
women's track
(volunteer) '80

Wayne State Univ.
men's cross-country
'85-'87
PR's

mile 4:09
5km 14:43
10km 30:43
12km 39:10
10m 51:10
Half-marathon
1:07:19
Marathon 2:28:56

wow!! this guy
was fast!!