September 29, 2018- Saturday
9th Annual Zaman Run Walk Picnic
TYPE OF RACE
ROAD RACE
Start Time : 8:30 AM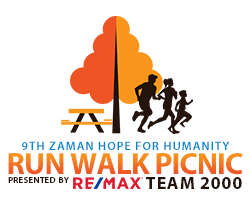 PRIZE MONEY
1st Place 5K & 10K Open & Masters: $50 RUNdetroit Gift Certificate
2nd Place 5K & 10K Open & Masters: $30 RUNdetroit Gift Certificate
3rd Place 5K & 10K Open & Masters: $20 RUNdetroit Gift Certificate
EVENT FEE(S)
SAVE 10% ON ADULT RATES WITH COUPON CODE: RUNMICHIGAN18.
Double Run: $50 ($40 for students)
10K Run: $40 ($30 for students)
5K Run: $35 ($25 for students)
Kids Run: $15 (Ages 4-12)
5K Walk: $30 ($15 for students and seniors, free for children 3 & under)
5K WALK & PICNIC INCLUDED WITH ALL REGISTRATIONS.
RACE INFORMATION
The 9th annual Zaman Hope for Humanity Run Walk Picnic is a day of fun and fitness for the whole family. It is also an opportunity to raise awareness and funds to support Zaman's Michigan based programs which are committed to addressing the basic needs and empowerment of poverty-stricken women and children, seniors and the disabled living in Michigan. It will be held at Ford Field Park in Dearborn, MI, on September 29, 2018.

The day consists of timed 10K and 5K runs (or you can run both!), a kids run, a 5K walk and a picnic with a barbecue lunch and family activities that include pony rides, a petting zoo, a basketball competition, face painting, a photo booth, and more.
This event has been viewed 835 times
Created on: 7-23-18 7:27:26
Last updated on 9-17-18 11:06:09