This EVENT is an older event! It is from September 30, 2017
Please use the search box above to search for the new race!
September 30, 2017- Saturday
Run for Robots 5k
TYPE OF RACE
TRAIL RACE
Start Time : 3:00 pm
WHERE
Lapeer
Rowden Park 1552 N. Main St.
48446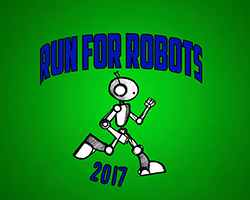 RACE INFORMATION
ATTRACTIONS: Kickoff the fall season with a run/walk through Rowden Park's beautiful trail!
Although a fun race, it will be timed for participants who like to have those numbers!
The Chimeras will also have interactive robot demonstrations in the pavilion before and after the event, so participants can get a glimpse at what the team does. 
PURPOSE OF THE EVENT: To raise funds for The Chimeras Robotics Team. They are a free to play, high school aged team, who count on generous donation, sponsors and fundraising to keep the team running. Proceeds will help pay for robot parts, competitions, travel & other expenses. Supporting robotics helps support these kids' futures!
This year the team wanted to donate a portion to a local charity. They chose The Family Literacy Center.
10% of all proceeds will go to benefit this amazing organization!

This event has been viewed 1805 times
Created on: 6-23-17 8:44:55