This EVENT is an older event! It is from November 23, 2017
Please use the search box above to search for the new race!
November 23, 2017- Thursday
2017 Anti-Turkey Trot
TYPE OF RACE
ROAD RACE
Start Time : 9:30 AM
WHERE
Shelby Township
14843 N. Lakeside Blvd
48315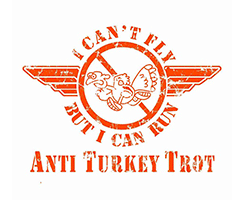 EVENT DISTANCES
1 Mile : RUN/WALK
5K : RUN/WALK
10K : RUN
EVENT FEE(S)
Prices increase monthly, register early to save $!

Online registration closes at 11:30 am on Wednesday November 22nd. 

RACE INFORMATION
November 23rd, 2017 (Thanksgiving Day)
Anti- Turkey Trot 1 Mile (Untimed), 5k & 10k ish Events

Additional Location Information
14843 N. lakeside Blvd Shelby Township, Mi 48315
Main cross roads are Hayes and Hall Road;
Call 586-532-1300 for additional information.  

About This Event
The standard turkey trot is a pain! Up at 5am, fight traffic in the city,
then fight the people during the race (which you pay for). Run Club is hosting an
ANTI-TURKEY TROT! Please feel free to dress up as you would for the traditional turkey
trot. Interested in sleeping in and saving some money? Join us! GET MORE DETAILS ON
www.shelbyrunclub.weebly.com .

When: (Thanksgiving Day) November 23rd. No age group awards but everyone will walk
away with Anti-Turkey Trot swag, we will have t-shirts and tree bulbs. Finish line hot
chocolate and sugar cookies will be provided We will have a drop box for non
perishable canned food donations. see you there. 

SCHEDULE OF EVENTS: 
9:30 AM Untimed 1 Mile Run 
10:00 AM 5k & 10k Run/ Walk Race 

PRICES:
Prices increase monthly, register early to save $!

Current Fee (5k & 10k, less for 1 Mile)  On Site Link!
Race Day Fee for all events: $35
Online registration closes at 11:30 am on Wednesday November 22nd. 

What Is Included?
1. T-shirt 
2. Finisher Tree Bulb
3. Organic Hot Chocolate and Sugar Cookies
4. Club access for the day including shower/ towel usage
5. Chip timed 5k & 10k events
6. Non -perishable food drop box

Who: All are welcome (club members & non-members)!

PACKET PICK-UP & REGISTRATION AT SHELBY TOWNSHIP LIFE TIME FITNESS
Wednesday November 22nd 5:30pm-7:30pm
RACE DAY 8:30-9:45AM

Become a Run Club member on www.Lifetimerun.com (click on the running icon and then
"Join Run Club" it's FREE!  

COURSE: Maps are posted below. Traffic will not be stopped so each runner will run at
his/ her own risk. There is a small portion of the course on all distances where there
is not a sidewalk the whole way please RUN ON THE GRASS, do not run in the road. we
will have a water station at 21 mile and Schoenherr Road. We have done our best to
mark the course for the 5k and 10k . 

APPAREL:
We will have additional Anti-Turkey Trot & Life Time Run apparel for sale at the event,
so bring your wallets and if you forget a hat or gloves we have them for purchase.

2016 & 2017 Race Results Will be posted here: http://www.eastsideracingcompany.com 

RACE VIDEO: http://www.youtube.com/watch?v=y7FdQTL_Lfs 

Morgan Derouin
Mderouin@Lifetimefitness.com
This event has been viewed 3349 times
Created on: 5-22-17 11:31:47