This EVENT is an older event! It is from April 29, 2017
Please use the search box above to search for the new race!
April 29, 2017- Saturday
Run Like a Wildebeest - Greg Flint's Run
TYPE OF RACE
ROAD RACE
Start Time : 8:30 am
WHERE
Flushing
5039 Deland Road
48433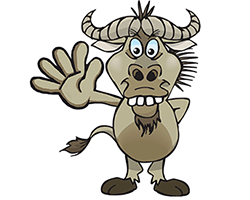 EVENT DISTANCES
5K : RUN/WALK
5K : WALK
10K : RUN/WALK
400 Meter : FUN RUN
EVENT FEE(S)
We strongly encourage signing up online. The online early bird rate (thru Feb 2017) for the 10K & 5K is $11.00 plus another $11.00 for a tech shirt. The little wildebeest race is only $10.00 and includes a medal and cotton shirt. A complete schedule of our rates can be found on runsignup or on our race website. The paper registration cost thru April 21st is $18.00 without shirt or $29.00 with tech shirt.
CONTACT
Will D. Beest
5039 Deland Rod
Flushing, MI 48433
RACE INFORMATION
The sixth annual Run Like A Wildebeest (Greg Flint's Run) Race Event is scheduled for 8:30 a.m. on Saturday, April 29th at Flushing High School. The event includes a 5K run, a 5K walk, a 10K run, and a little wildebeest fun run. The little wildebeest registration cost includes a cotton t-shirt & medal. The registration cost for all other races excludes the price of the wildebeest tech shirt. However, a wildebeest tech shirt (men's and women's sizes) can be added on for an additional $11.00 for sizes thru X-Large or $12.00 for sizes 2X and higher.

Note that there is an optional "Hefty Wildebeest" race category in the 5K run and 10K run for MALES who weigh 185 lbs. or greater. (Go to event info for more information.) The net proceeds from this year's race will go toward scholarships for Flushing High School student athletes in cross country and track, entry fees for high school track and cross country, and donations to the Thomas Smith Memorial Foundation (Tommy's Heart) & other local charities.

Please go to our website for additional information. http://runlikeawildebeest.com/ You can also check us out on Facebook .https://www.facebook.com/Run-Like-a-Wildebeest-Greg-Flints-Run-330346463678184/


This event has been viewed 1505 times
Created on: 1-12-17 9:28:14